CRIRES - CRyogenic high-resolution InfraRed Echelle Spectrograph
Summary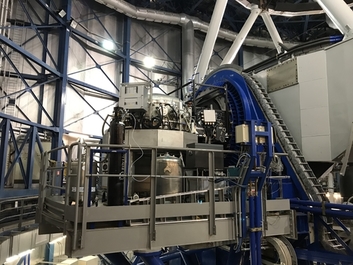 The upgraded CRIRES is a cryogenic high-resolution cross-dispersed infrared echelle spectrograph, developed by ESO. It is located at the Nasmyth B focus of UT3. The CRIRES upgrade project is described here.
Before the upgrade, the original CRIRES was in operation from observing periods P79 through P93. An overview over the original (pre-upgrade, pre-August 2014) CRIRES can be found here.
Publications based on data taken up to August 2014 (original CRIRES) should quote the following reference paper: Käufl, H.U. et al. 2004, SPIE, 5492, 1218.
Data taken with the upgraded CRIRES should additionally reference Dorn, R.J. et al., 2014, ESO Msngr, 156, 7 and Dorn, R.J et al., 2023, A&A, 671, 24.

Contact Information
Questions related to proposal preparation, service mode, and visitor mode observations should be addressed via the contact form of the ESO Operations Helpdesk.
Please send us your feedback, comments, suggestions and report errors and inaccurate statements on the web pages and in the documentation via this contact form.
Content of these pages
The following items are available on all the CRIRES pages, using the bar on the left.
Overview: a short description of the instrument
News: list of changes affecting the instrument and/or its pages.
Instrument Description: all the important parameters of the instrument.
Manuals: links to all the documents related to CRIRES.
Tools: a collection of useful tools and informations for preparing and analyzing the CRIRES observations.
Instrument Operations Team
Visitor Instructions: Instrument specific instructions for Visiting Astronomers
Science: Science done with CRIRES, incl. during Science Verification