Rationale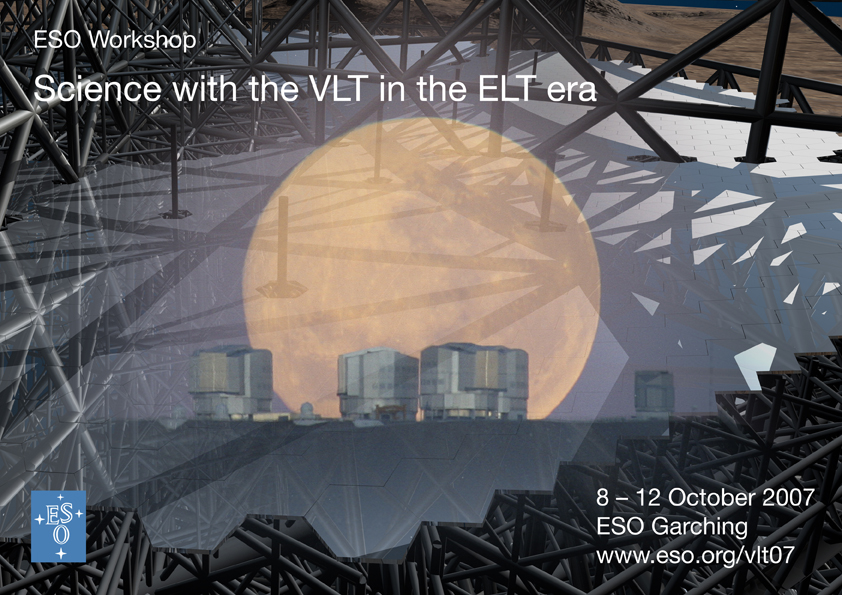 Rationale:
The first of the ELTs (Extremely Large Telescopes) now under study could see first light in around 10 years when the ESO VLT will still be fully operational and receiving new 2nd generation instrumentation and upgrades. Even before then we will also have entered the ALMA (and JWST) era. This Workshop will provide a forum for the ESO community to debate and provide valuable feedback on how it expects the scientific use of the VLT and VLTI to evolve over this period and the priorities to be set in the next Call for Instrument Proposals expected to be issued in 2008.

Amongst the topics envisaged are:
Science highlights illustrating unique VLT and VLTI capabilities
Future research priorities recommended by Astronet, ESA/ESO working groups, etc.
New science opportunities created by instruments becoming available in 2008-2012 (HAWK-I, X-Shooter, KMOS, SPHERE, MUSE, PRIMA, and possible 2nd generation VLTI instruments)
ELT science priorities and possible 1st light instruments
VLT and VLTI synergies with ELT, ALMA, JWST.
VLT and VLTI science priorities beyond 2012 and consequences for possible specialization of telescopes, new operational models etc.
Available resources and concepts for new 2nd generation VLT instruments to be installed beyond 2014
Format:
The format of the workshop foresees invited talks introducing each topic, as well as 15-20 min contributed talks, and posters. Ample time for discussions is foreseen in all sessions, as well as a general discussion panel.
Proceedings:
It is currently planed to publish the proceedings of this workshop in the Springer-Verlag series "ESO Astrophysics Symposia".