Maps
Apart from Google maps, the streetfinder Mapcity or Dmapas (better results with IE browser) will also help to locate the streets in Santiago and Viña del Mar.
Viña del Mar

Valparaíso
Marjorie Agosin wrote in 'Americas Magazine': Pablo Neruda loved not only the exaggerated geography of Chile, his long and narrow, windswept homeland, but all of its cities north and south. He wrote about them with pleasure and amazement. One of his favorites, Valparaíso, was one of the most important Pacific ports during the past century. Called "the pearl of the Pacific," it made history with the arrival of Francis Drake, Lord Thomas Alexander Cochrane, General José de San Martín, and other legendary personages.
Located seventy-five miles from Santiago (120 km), Valparaíso occupies a privileged position in Chilean cultural imagery. There is no other place quite like it. Its setting is dramatic. Hills like precipices&mdashwith such poetic names as the Hill of the Happy Butterfly or Flowery Hill&mdashdrop sharply to the sea. Each morning the inhabitants of these hills wash and hang their bright clothing out of winged windows, like the sterns of abandoned ships, where fabric dances to the wind's whim&mdashfor Valparaíso is also known as the Windy City.
There is also the famed Belt Road, which crosses the sixty narrow, dizzying hills, scaled by ancient, narrow stairs leading up to the heavens. From their summits, one can see the port, its old warships at anchor and its sailboats that turn ghostly at night. Valparaíso too takes on a different character at night, when the hills are illuminated. Secret and mysterious bars open up and sailors dream of their love for this intemperate place.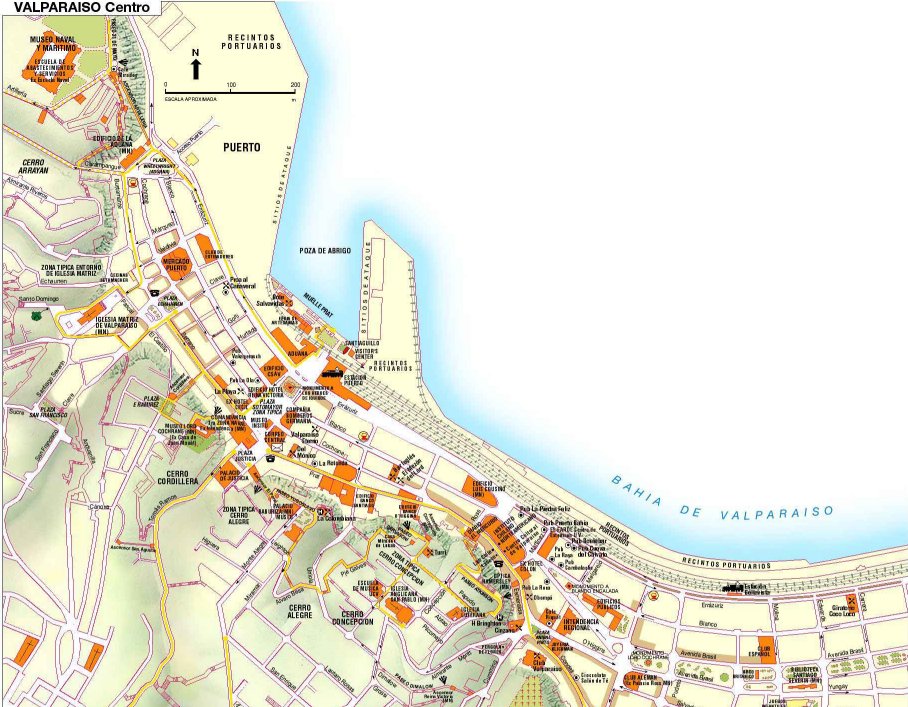 Santiago: ESO office at Vitacura district