Publishing Support
The ESO Librarians monitor developments in scholarly publishing and inform ESO researchers about trends and interesting topics. Please reach out to us if you have any questions.

Open Access
Open Access in scholarly literature means the free, immediate, online availability of research articles, coupled with the rights to use these articles, i.e., permitting users to read, download, copy, distribute, print, search or link to the full text of these articles, crawl them for indexing, pass them as data to software or use them for any other lawful purpose (Scholarly Publishing and Academic Resources Colatition, SPARC).
For further information, see the separate page about Open Access publishing.

Publishing costs
Some journals charge publishing costs, such as page charges or, in the Open Access era, Article Processing Charges (APCs), directly to authors. For further information on APCs, see the Choices in the Publishing Process section on our Open Access publishing page.
If you are affiliated with ESO and would like to publish in a journal that charges page charges or APCs, please request permission from the Office for Science prior to manuscript submission as described in the Publishing Costs - Page Charges section of the Office for Science FAQ page.
Example of Open Access APCs:
As described on our OA publishing page, some of the core astronomy journals will move to Open Access publishing as of 2022. The AAS has chosen to transition their journals (incl. ApJ and AJ) to OA by charging Article Processing Charges to their authors. (In contrast, publishing in A&A continues to be without any direct costs for ESO-affiliated authors.)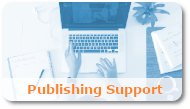 Publishing tools
Overleaf
Overleaf is a collaborative cloud-based LaTeX editor used for writing, editing and publishing scientific documents.
Learn about Overleaf licences at ESO.
 
Persistent Identifiers (PIDs)

Persistent Identifiers (PIDs) help to create a network of scientific output, persons, institutions, and funders. Typically, they follow the FAIR Principles for scientific data management and stewardship that provide guidelines to improve the Findability, Accessibility, Interoperability, and Reuse of digital assets.  
Examples of PIDs are the ORCID identifier for authors and other creators of content, DOIs for research artefacts, and Research Organization Registry (ROR) identifiers for research organizations.

ORCID (Open Researcher and Contributor ID)

ORCID provides a persistent digital identifier (an ORCID iD) that you own and control, and that distinguishes you from every other researcher. You can connect your iD with your professional information — affiliations, grants, publications, peer review, and more. You can use your iD to share your information with other systems, ensuring you get recognition for all your contributions, saving you time and hassle, and reducing the risk of errors.
DOI (Digital Object Identifier)

Digital Object Identifiers (DOIs) uniquely identify scientific objects in a digital world. They are permanent and enable access to the object via so-called landing pages that provide metadata (descriptive information) about the objects, along with a link to access or download the object. DOIs are mainly used to identify and interconnect academic, professional, and government information, such as journal articles, research reports, and data sets. DataCite and Crossref are important DOI Registration Agencies.
ESO's DOI infrastructure has been initiated and built, and is currently maintained by, the Library, Documentation, and Information Services department. DOIs at present are predominantly used by the Communications Department to create unique identifiers for Messenger articles and the ESO Annual Report. In the near future, the ESO Science Archive will deploy the infrastructure to assign DOIs to data collections.  
ESO's metadata repository for Digital Object Identifiers is available at doi.eso.org.
 
ROR (Research Organization Registry)

ROR is a community-led project to develop an open, sustainable, usable, and unique identifier for every research organization in the world. See https://ror.org for further information.
The PID and Metadata Services section of the TIB (Technical Information Library) Hannover provides a helpful introduction to PIDs, including the image reproduced below.