Our role within the European Southern Observatory

The Integration and Cryo-Vacuum department is part of the Instrumentation Division and plays a crucial role in the construction of ESO-built instruments. For instruments built internally, our main responsibility is to assemble, align and test instruments starting from a single screw into complete working systems (excluding software and electronics).
Instruments are then delivered to the project leaders and system engineers for characterization and performance optimization until it is declared ready at PAE (Preliminary Acceptance in Europe). When accepted, we take care of their packing and complete re-integration-alignment at the telescope.
In addition, the Integration Group assembles and tests all detector cryostats for optical and IR instruments and gives some cryogenics and integration support for externally developed instruments.
Our expertise in opto-mechanics and cryogenics serves also when special instrument subsystem developments are required. We then take the responsibility of mechanical design, procurement and integration activities.
Once in operation we follow an instrument during its lifetime at the telescope and participate to interventions when repair, maintenance or upgrade is required. Click here to see the list of contact persons per instrument of our department.
Click here to see an overview of the construction of an ESO instrument and in particular our involvement in the different stages from design to observations.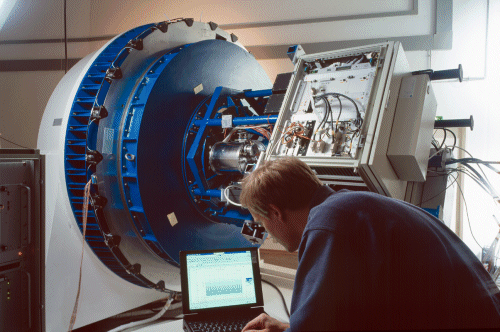 About the Instrumentation Division mission
INS mission is to provide the ESO community with competitive optical & infrared instrumentation, taking responsibility from concept to development and installation at the Observatories.
The Instrumentation Division (INS) is responsible for delivering to ESO's Observatories world-class astronomical instrumentation operating at wavelengths from the ultraviolet to the mid-infrared. Its responsibility begins with involvement in the establishment of astronomical requirements followed by conceptual instrument design studies and necessary technology R&D programs, in particular for advanced detector and optical systems.
In order to keep expertise and retain competent and motivated technical staff, INS with support from other Divisions maintains the ability to develop complete instruments in-house. INS is also pro-active in contracting to or establishing collaborations with external institutes and/or industry. Installation and commissioning of instruments at the telescope, as well as upgrades and exceptional repairs, are carried out in strong collaboration with the Observatories.