NaCo Nasmyth Adaptive Optics System (NAOS) Near-Infrared Imager and Spectrograph (CONICA)
Summary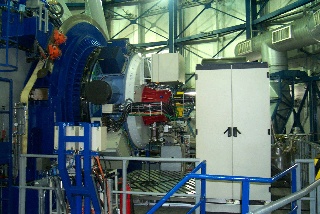 NaCo is short for NAOS-CONICA. It was installed at the Nasmyth B focus of UT4 from 2001 through 2013. In 2014 it was reinstalled on UT1 at the Nasmyth A. It provides adaptive optics assisted imaging, imaging polarimetry, and coronography (only L) in the 1-5 micron range.
The adaptive optics system, NAOS, is equipped with both visible and infrared wavefront sensors. It contains 5 dichroics which split the light from the telescope between CONICA and one of the NAOS wavefront sensors.
CONICA is the infrared camera and spectrometer attached to NAOS and is equipped with an Aladdin 1024x1024 pixel InSb array detector. It contains several wheels carrying masks/slits (including focal plane coronographic masks), filters, polarizing elements, grisms and several cameras allowing diffraction limited sampling across the full wavelength range. Spectroscopic observations are no longer offered. CONICA was not intended to be operated without NAOS, though now observations without adaptive optics are possible.
Publications based on data obtained with the NACO instrument should quote the following reference papers: Lenzen, R. et al. 2003, SPIE 4841, 944 and Rousset, G. et al. 2003, SPIE 4839, 140.
NACO has been decommissioned at the end of P103. The last image was taken on 1st October 2019.
Contact Information
Questions related to service mode observations and proposal preparation should be addressed to the User Support Department.
Questions related to visitor mode observations should be addressed to Paranal Science Operations
Questions related to NaCo should be addressed to the NaCo account
Please send us your comments, suggestions and report errors and inaccurate statements in the web pages and manuals.
Content of these pages
The following items are available on all the NaCo pages, using the bar on the left.
Overview: a short description of the instrument.
Instrument Description: all the important parameters of the instrument.
Manuals: links to all the documents related to NaCo.
History: list of changes affecting the instrument
Tools: a collection of useful tools and informations for analysing NaCo observations.
Instrument Operations Team.
Science: information and links regarding the science carried out with NaCo.