La Silla Important Facts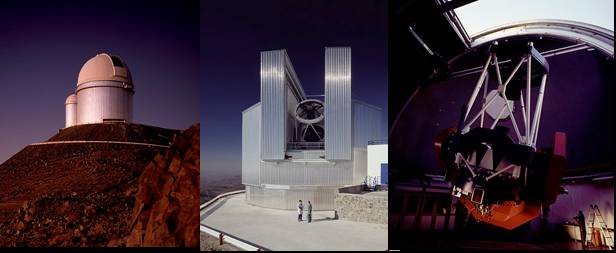 To get more information concerning La Silla, such as its History, Staff and Management,
Milestones, among other interesting topics, visit the page About La Silla.
To see a general plan of the observatory, click here
Content
Postal Service
Meal Hours
Library Facilities
Laundry Services
Souvernirs
Custody of Values
Medical Care
Driving and Hiking
Lights
Paging System
Phone and Beeper Numbers of Key Personnel
Telephone Special Features
At the Logistics Office, Staff and Visitors will be assisted in general matters.
For information regarding transport to-from La Silla, please check the Transportation and Boarding page.
Upon arrival you may contact the Logistics Officer, at the Hotel Reception Desk (Logistics Office), to request any information you need concerning arrangements for your stay at La Silla as well as your trip back to Santiago. He also provides assistance in case you need any communication service, such as fax transmission and reception, questions regarding mail, lodging, etc.
The Logistics Office and Reception Desk can be contacted at extensions 4215,4192 or 4172, or by paging 70. The schedule, from Mondays through Fridays, is the following:
Mondays: 14:30hrs to 19:00 hrs.
Tuesdays, Wednesdays and Thursdays: 08:00 hrs. to 13:00hrs and 14:00hrs to 19:00 hrs.
Fridays: 08:00 hrs to 13:00 hrs.
Please note that on weekends this Office and the recepcion desk is closed. In case you need assistance, please contact to the Emergency coordinator to Beeper 20.
Postal Service

Incoming mail can be collected from the mailboxes sorted by room number at the entrance to the dining hall, while Outgoing mail may be posted in any of the blue box in the same place. Mail, sent to be forwarded from Garching, should be labeled with special stickers bearing our Garching return-address. Mail via "DiploBag Garching", reaches and leaves La Silla on Wednesdays at 16:15 hr.. In compliance with international agreements, use of the "Diplo-Bag Garching" is restricted to scientific material, such as magnetic tapes, or letters. No personal effects can be sent, and ESO reserves the right to open and check all mail and parcels.
Meals

The meal hours have been established as follows:
| | From | To |
| --- | --- | --- |
| Breakfast | 07:00 | 10:30 hr. |
| Lunch | 13:00 | 14:00 hr. |
| Dinner | 17:30 | 19:30 hr. |
| Midnight Service (self service) | 24:00 | |
Library Service

The librarian in Santiago can be contacted either via e-mail to libchile@eso.org or phones 3153 - 3183.
Laundry Services

This service is accessible to all visiting astronomers. To use it, just follow these simple instructions:
Fill in the "Laundry Service Form" (available at bedrooms), with the specifications regarding the clothes to be washed.
After filling in the form, take it with your clothes to the laundry room and leave them inside one of the lockers placed there. Take the key in the locker, and register your name in the laundry book.
People in charge of cleaning will check the laundry book, open the corresponding locker, read the completed form (with the specifications for cleaning), and proceed accordingly. 24 hours later -at the latest- you can take your clothes from the laundry room by opening the locker you previously used. Your clothes, now clean, will be there waiting for you.
The hotel is not responsible for discoloring, shrinkage, loss of personal belongings left in your laundry or any other type of damage, which may occur to your laundry.
Room Items
In the room assigned you will find a set of towels, toilet paper and soap (a bar or liquid presentation), the rest of higyene items such as shampoo, toothpaste, toothbrush, etc., are not provided.

Custody of Values
The Administration does not accept responsibility for values and/or documents lost at La Silla. During your stay, these may be kept in custody in our safe, located at the Reception Desk, in a sealed envelope with the owner's name written on top.
Leaving La Silla
Before leaving La Silla
Check-out time is 3:00 pm.
Check that clothes are left in your room and return the key and torch to the Front Desk Officer.
Return any books to the library and other materials to their source. Borrowed audiocassettes/DVDs should be returned to the Front Desk Officer.
Astronomers who have phone bill and/or invoice and stay at the guesthouse after leaving La Silla, may pay for their bills directly there.
Astronomers who have phone bill and/or invoice and do not stay at the guesthouse, should pay for their bills at the Reception Desk.
All persons (their luggage and vehicle) leaving ESO premises are subject to spot checks according to the established procedures.
Safety
Safety on La Silla is supervised by the Site Manager or his deputy, and the Emergency coordinator in the absence of the firsts( All can be contacted paging to beeper 20), who coordinates the work of the First Aid Station, the Emergency Group and the Fire Brigade. In case of accidents, fire, or other emergencies, please alert the Emergency Group by dialing 4444 and/or paging the beeper code 00. This beeper will also alert the first aid station and the firemen. For detailed information on the emergency procedures visit the Safety Information and Instructions page.
Other Emergency Phones
| Rescue group | Phone | Beeper code |
| --- | --- | --- |
| First Aid Station | 4310 | 60/10 |
| Emergency Group | 4444 | |
| Emergency Coordinator | 4444/4300 | 20 |
Medical Care
The practitioner may be consulted regarding any health problem at the first aid station (first bungalow, northeastward from the hotel). Its phone number is 4310 and its paging code 60. Paging code 11 alerts a rescue crew (which includes the practitioner) in case of accidents, fire, or other emergencies.
Concerning "vinchucas", it is recommended to read this article published in our newsletter The Messenger, Nr. 26 - available at the scientific library -. The bug is anyhow very rarely seen indoors thanks to the implementation of a thorough and systematic spraying program. However, if you are or suspect having been bitten, try to locate the insect, catch it alive (a very easy task with these low-metabolism creatures), and bring it to the attention of the practitioner.
Driving and Hiking
The driving speed limit on the mountain is 40 km/h. Solo hiking in ravines and valleys surrounding La Silla can be quite dangerous. Do not attempt such activities without discussing your plans with people in the Reception Desk, or the Observatory Safety Officer.
Lights
The observatory site has been chosen because of its excellent conditions, one of which is its remoteness from civilization and pollution from urban lights. Users must close all blinds, curtains, etc., and switch off all unnecessary lights. However, you should always carry your torch at night (which is a vailable in your room), to make yourself visible to approaching cars. You can help us to keep La Silla a dark site!
La Silla Telephone System
Upon arrival at La Silla you will receive a personal code (PIN), which you must use whenever you need to make external phone calls from any telephone on the mountain, including dormitories. To proceed, just follow these instructions:
Official and Privat Phone Calls
Official Phone Calls
To make official phone calls within Chile (there is no domestic "long distance" in Chile anymore, area codes were added to telephone numbers), or International calls, always dial "0" + "01" + your code
Private Phone Calls
To make private phone calls within Chile, or International calls always dial "0" + "11" + your code.
The complete sequences would be as follows (area codes in Chile: Santiago 2, La Serena 51, Antofagasta 55 to be include in 9 digit telephone number)

| | | |
| --- | --- | --- |
| Oficial calls within Chile | | Official International calls |
| 0 + 01 + PIN + 9 digit telephone number | | 0 + 01 + PIN + 1840 + country code + area code + telephone number |
| | | |
| Private calls within Chile | | Private International calls |
| 0 + 11 + PIN + 9 digit telephone number | | 0 + 11 + PIN + 1840 + country code + area code + telephone number |
| | | |
To reach you at La Silla

From outside Chile:

+ 56 +2

+ 2464 + four-digit extension

From Santiago:

2

+ 2464 + four-digit extension

To receive a fax at the Reception Desk

Main fax numbers: (24 hr)

+56 + 2 2464 4101
Note: The personal code is not needed to call within ESO. The personal code is not needed to call within ESO.
Paging System (Beeper)
In the event of technical problems, Telescope Team personnel may be summoned following the list below. You may first try the telephone extension appearing in the list. If unsuccessful, use the paging (or "beeper") system: dial 93; you will hear a single "beep". Then, dial the paging code of the person needed; you will hear an intermittent "beeping". After it, you have 15 seconds to deliver the number of the extension you are calling from (which you should repeat 2 or 3 times) speaking slowly and clearly into the phone. After that, put down the phone to allow the addressee to ring you back.
The table below shows the phone and beeper numbers of key personnel who work at telescopes. In addition, more information on beeper numbers and phone extensions can be obtained from the Observatory's contact list.
Main Beeper and Phone Numbers
Day Night Operations Support

Telescope Coordinator/Day TIO

43

General

Operation Engineers/Deputies
36

.

Logistics
70
---
NOB (New Operations Building) Phone Numbers
NTT Console

4531/4532

3.6m Console

4541/4542

2.2m Console

4551/4552

Support Engineers

4111/4218/4159/4374

USERS Office (VA)1

4459/4458/4476

Conference room
4446
Cafeteria

4460
Telephone Special Features
The following are some special features:
| Code | Feature | Description |
| --- | --- | --- |
| *50 | Forwarding Immediate | To forward calls to a secondary station, dial *50 followed by the secondary station number. All the calls received in your first station will be automatically forwarded to the second one. |
| *53 | Forward if no reply | Dial *53 followed by the secondary station number. Your primary station will ring four or five times and if nobody answers, the call will be automatically forwarded to the station number you have programmed. |
| *55 | Cancel Forwarding | To cancel any of the Forwarding feature, dial *55. |
| *63 | Last Caller Call Back | Somebody is calling you and you are not able to answer in time. Dial *63 so that the phone displays the phone number of the last call received (digital phones only). |
| *64 | Appointment Reminder - Alarm Clock | Dial *64 followed by the time in a twenty-four hour format (hh mm). At the programmed time, your phone will start ringing repeatedly . Lift the handset to stop the alarm. To cancel this feature, dial *65. |
| 4 | Automatic Call back | In case you dial lines 95/97 and you hear a message saying "you can request the automatic call back by dialing 4", you dial 4 and hang up. As soon as the lines are free, your phone will start ringing repeatedly. Then, you lift the handset and immediately dial the number you need. |
| *85 | Phone blocked/unblocked | To block or unblock your phone, dial *85. |