Announcement
Launch of CERN–ESO Science-Art Project Simetría
25 October 2018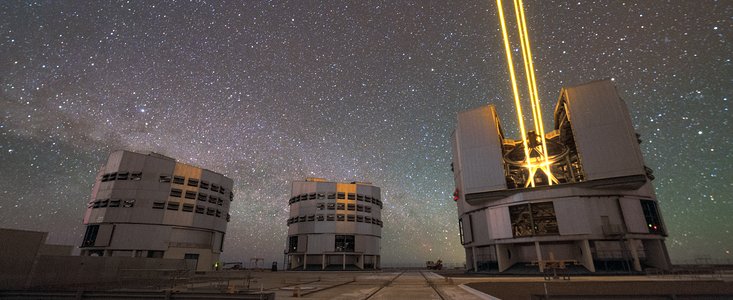 Simetría, a new ambitious residential Science-Art exchange programme, allows artists to carry out their artistic enquiry in relation to astronomy and particle physics at some of the world's most important scientific research centres. The residence gives artists the opportunity to explore scientific ideas and technological concepts while engaging in innovative discourses to further their artistic expression.
The Chilean artist Nicole L'Huillier and the Swiss artist Alan Bogana have been selected from a list of nominations by a jury of art and science experts. They will be invited to carry out their residences in Switzerland at CERN, the European laboratory for particle physics, and in Chile at European Southern Observatory's Very Large Telescope (VLT) and ALMA.
"I am very happy that the VLT and ALMA are part of this initiative because the arts and sciences raise spirits and remind us of the importance of treasuring the dimension of creativity, curiosity and discovery that, in a certain sense, defines us and, therefore, should never be forgotten," says Claudio Melo, ESO Representative in Chile.
Simetría is launched with support from Pro Helvetia Coincidencia, the Swiss-South America exchange programme, and the Ministry of Culture, Art and Heritage in Chile. It is a joint cooperation between Arts at CERN, ESO, ALMA and the Coorporación Chilena de Video.
Links
Contacts
Calum Turner
ESO Public Information Officer
Garching bei München, Germany
Tel: +49 89 3200 6670
Email: pio@eso.org
CERN Press Office
CH - 1211 Geneva 23
Switzerland
Email: Press.Office@cern.ch