Announcement
Winners of 2016 Photo Nightscape Awards Announced
14 November 2016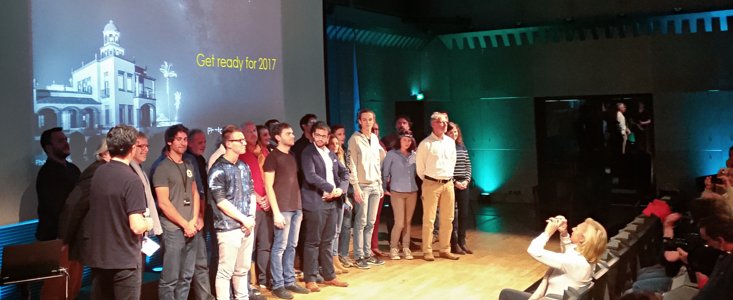 The awards ceremony for the 2016 Photo Nightscape Awards — organised by Association Française d'Astronomie — was held on 12 November, at the Cité des Sciences et de l'Industrie in Paris. Thierry Botti, ESO Science Outreach Network representative in France, was present at the ceremony to congratulate the participants and offer a prize on behalf of ESO consisting of a trip to the Very Large Telescope in Chile.
Over 400 photographs and timelapses from more than 45 countries were submitted for this year's competition, from which the eight winners were chosen. Lars Lindberg Christensen, Head of ESO's education and Public Outreach Department, was one of the jury members who selected the winners.
Prizes were awarded to the first and second places in each of three categories: Nightscape, In Town, and Timelapse, with two further awards in the Junior category.
The first prize in the Nightscape category went to Luc Perrot from France (Réunion Island) for his photo entitled "Full Moon and Eruption". His prize is a trip to ESO's Paranal Observatory, home of the Very Large Telescope (VLT) in northern Chile. This prize was offered by ESO, as a supporting partner of the Photo Nightscape Award. Second place in this category was awarded to Brandon Curtis Giesbrecht from Paraguay.
Dario Giannobile from Italy was awarded first place in the In Town category for his work "Pinching the North Star", followed by Norberto Nunes from the USA in second place.
Dominique Joubert from France won the first prize in the Timelapse category for "Climbing Moon", with Ya Chen from China receiving the second prize.
The winner in the Junior category — available to French under 18s only — was Baptiste Zloch, aged 16, for his photo entitled "Entre Ciel et Mer". The runner up was Niels Pierré-Derouet, 17. The winning photos can be viewed on this YouTube video.
Links
Photo Nightscape Awards Facebook page
Contacts
Franck Séguin
Tel: +39 1 45 89 89 08
Email: pna@photonightscapeawards.com
Oana Sandu
Community Coordinator & Communication Strategy Officer
ESO education and Public Outreach Department
Tel: +49 89 320 069 65
Email: osandu@partner.eso.org