Announcement
New website for ESO's Extremely Large Telescope launched
14 January 2021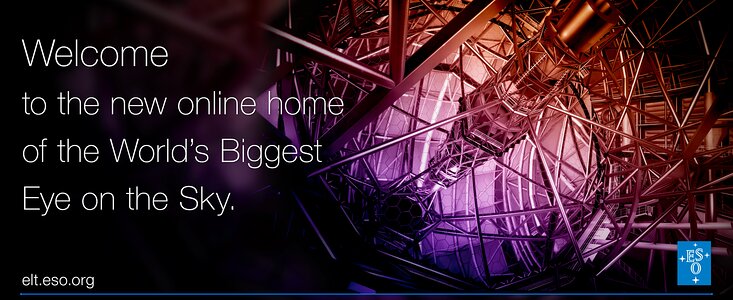 ESO has launched a new website to deliver a wealth of information about its Extremely Large Telescope (ELT), a forthcoming observatory that will study the Universe from Chile's Atacama Desert. Created for a wide range of audiences, the general public and astronomy experts alike can dive into the website to discover the new telescope, its instruments, and how it will further our knowledge of the cosmos. 
The website showcases some of the most important scientific questions that astronomers hope the ELT will answer, complemented by striking visuals of the telescope, its surrounding structure and its various instruments and mirrors. It also features interesting facts about the ELT, which will be the largest visible and infrared light telescope in the world with a 39-metre main mirror, some of the history behind this ambitious and challenging telescope, as well as a timeline with some of the project's most important milestones.
This is another exciting development in the history of the ELT, which is set to see first light later this decade. The new website provides the perfect way to stay up-to-date with future news relating to the telescope, and to learn more about the science, technology and the people who have contributed to its progress.
Each page of the website has been carefully arranged so that users encounter the most general information first: from reading the text at the top of each page, they can easily gain a broad understanding of the ELT, including overviews about its individual components, instruments and science cases. For more detailed or technical information, the user can simply scroll down to the bottom of the page, where the more specific details about the project — likely to be of most interest to astronomers and engineers — are presented. 
The new site has a responsive design, meaning it functions smoothly across all devices: laptops, desktops, smartphones and tablets. It provides an informative and engaging user experience for all those interested in the telescope that will dramatically change what we know about our Universe.
Any newly launched website is likely to have undetected bugs or glitches and our new ELT website is no exception, despite extensive testing prior to the launch. If you spot any issues with the site, please report them to information@eso.org.
We are grateful to the many individuals, within and outside ESO, that made the ELT website possible.
Links
Contacts
Mariya Lyubenova
ESO Head of Media Relations
Garching bei München, Germany
Email: Mariya.Lyubenova@eso.org
Michele Cirasuolo
ESO ELT Programme Scientist
Garching bei München, Germany
Email: mciras@eso.org