Announcement
Matta's Universes
New exhibition inaugurated at the USACH Planetarium
19 October 2011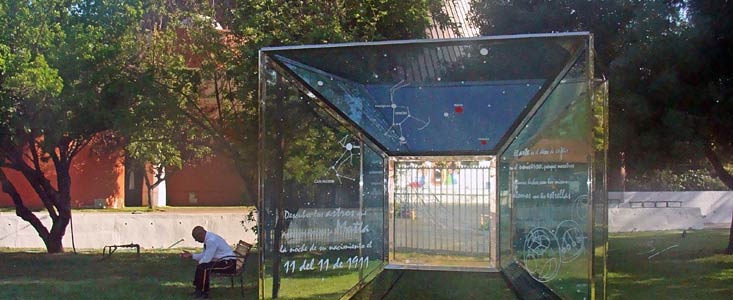 Los Universos de Matta (Matta's Universes) is a new exhibition inaugurated at the University of Santiago (USACH) Planetarium on 13 October 2011. Inspired by the work of the multifaceted Chilean artist Roberto Matta Echaurren, this exhibition opened in the new Astronomy Park in the green area surrounding the Planetarium.
Born in Santiago on 11 November 1911, Roberto Matta was a painter, an architect, a philosopher and a poet. Deeply fascinated by science and influenced by Einstein's theory of general relativity, he introduced the concept of space-time into his artwork, as well as bringing in several other astronomical elements. This aspect of his work is illustrated in this exhibition by the large cube that hosts the images and paintings on display, and also represents the multiple dimensions of spacetime. This exhibition is part of the commemorative activities that have taken place during 2011 for the centenary of Matta's birth. Among the images on display is one showing the sky that was visible on the night when Matta was born.
"This new facility is an expression of how art and astronomy can meet to contribute creatively and aesthetically to public scientific outreach," says Haydée Domic, Executive Director of the Planetarium Foundation.
The Astronomy Park at the USACH Planetarium was financed by the European Southern Observatory through the ESO–Government of Chile Joint Committee 2010.
More information
Since 1998, the ESO–Government of Chile Joint Committee has financed postdoctoral fellowships and positions for astronomy professors at Chilean universities, infrastructure development, conferences, training for science teachers at primary and secondary level, and astronomy outreach programmes for the general public.
Links
Contacts
Valentina Rodríguez
European Southern Observatory
Santiago, Chile
Tel: +56 2 463 3123
Email: vrodrigu@eso.org 
Carolina Díaz Soler
Planetario USACH
Santiago, Chile
Tel: +56 2 718 2903
Email: carolina.diaz.s@usach.cl