Announcement
Media Advisory: Virtual Press Conference to Mark ALMA Inauguration
6 March 2013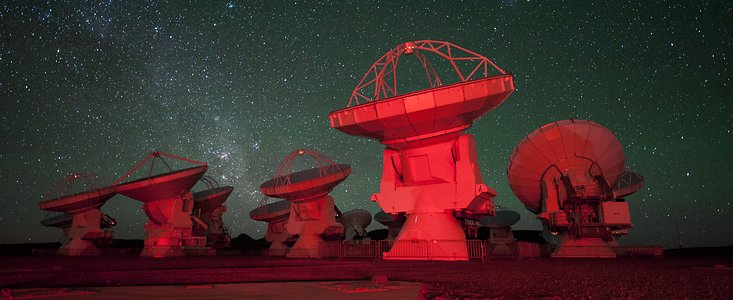 On 13 March 2013 the Atacama Large Millimeter/submillimeter Array (ALMA) [1], the largest astronomical project in the world, will be inaugurated in Chile, celebrating ALMA's transition from a construction project to a fully fledged observatory. For members of the media who cannot be present at the inaugural event, the ALMA partner organisations will host an online press meeting via Adobe Connect on 12 March 2013 at 12:00 CET.
Presentations about the development, inauguration and future of the ALMA project will be given, including the latest news on scientific achievements. Journalists will be offered the opportunity to pose questions to ALMA engineers and scientists. The speakers are ALMA director Thijs de Graauw, ALMA Chief Scientist Ryohei Kawabe, Professor at Leiden University and former ALMA Board member Ewine van Dishoeck, and Head of the ALMA Department of Engineering Michael Thorburn.
To participate in the conference and receive additional material under embargo, bona fide members of the media must have accreditation, obtained by emailing Javier Barbuzano (jperezb@eso.org). Reporters will need access to a computer with a recent version of Adobe Flash Player installed and an adequately fast internet connection. Further information will be provided to accredited reporters.
Notes
[1] The Atacama Large Millimeter/submillimeter Array (ALMA), an international astronomy facility, is a partnership between Europe, Japan and North America in cooperation with the Republic of Chile. ALMA is funded in Europe by the European Southern Observatory (ESO), in Japan by the National Institutes of Natural Sciences (NINS) in cooperation with the Academia Sinica in Taiwan and in North America by the U.S. National Science Foundation (NSF) in cooperation with the National Research Council of Canada (NRC) and the National Science Council of Taiwan (NSC). ALMA construction and operations are led on behalf of Europe by ESO, on behalf of Japan by the National Astronomical Observatory of Japan (NAOJ) and on behalf of North America by the National Radio Astronomy Observatory (NRAO), which is managed by Associated Universities, Inc. (AUI).
Links
Contacts
Richard Hook
European Southern Observatory
Garching, Germany
Phone: +49 89 3200 6655
Mobile: +49 151 1537 3591
Email: rhook@eso.org