Announcement
Media Advisory: Invitation to ESO@50 Science Workshop
15 June 2012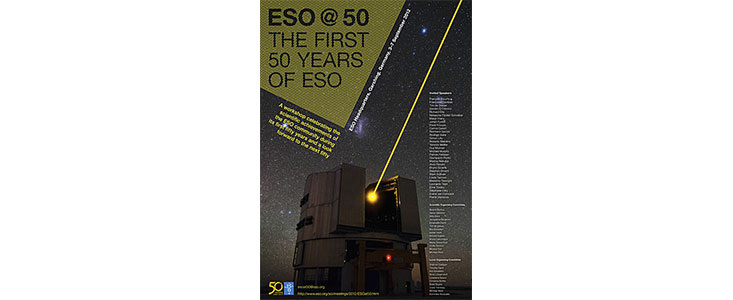 Media representatives are invited to attend the ESO@50 scientific workshop, an event organised in celebration of ESO's 50th anniversary. ESO@50 will take place between 3 and 7 September 2012 at ESO's Headquarters in Garching bei München, Germany. Some of the most prominent scientists from Europe and around the world will participate.
During the 5-day workshop journalists will have the opportunity to join the astronomers to get an overview of the main scientific topics where observations at ESO facilities have contributed to major progress in astronomy, from Solar System astronomy to fundamental physics. Original perspectives on the scientific challenges of the coming decades will also be presented.
Interviews with participants will also be possible.
Among the invited speakers are:
Richard Ellis: ESO's impact on ground-based astronomy
Marijn Franx: High-redshift clusters and proto-clusters
Reinhard Genzel: The Milky Way centre
Alvio Renzini: How ESO changed astronomy in Europe
A full list is available here.

The host of the workshop will be Professor Tim de Zeeuw, ESO's Director General, who will speak about ESO's next fifty years.
Other "bonus tracks" will include presentations about the first ALMA results, the latest unpublished VLT, VLTI and La Silla results, and an outlook for science with the E-ELT.
Bona-fide media representatives may apply to participate by contacting information@eso.org before 30 June 2012. Media attendance at the workshop will unfortunately be limited as space is tight. We encourage journalists to register as early as possible as places will be allocated on a first-come-first-served basis.
For further information please see the ESO@50 workshop web page at: http://www.eso.org/sci/meetings/2012/ESOat50.html.
Contacts
Richard Hook
ESO, La Silla, Paranal, E-ELT and Survey Telescopes Public Information Officer
Garching bei München, Germany
Tel: +49 89 3200 6655
Mobile: +49 151 15 37 35 91
Email: rhook@eso.org