Flying progress on the ELT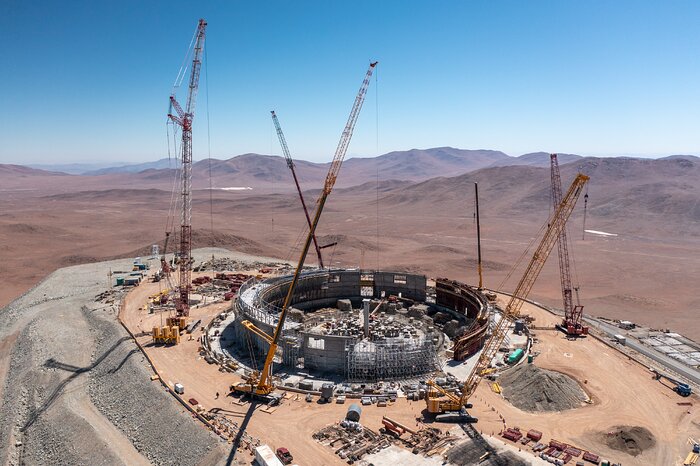 Construction on the world's biggest eye on the sky, ESO's Extremely Large Telescope (ELT) continues at the summit of Cerro Armazones in the Chilean Atacama Desert. As this Picture of the Week captured in October this year shows, the concrete structure that started taking shape in January is almost finished. This structure will support the 85-metre high steel dome, and within the next few weeks it will be ready for the installation of 36 mechanisms that will allow 360° rotation of the 6100-tonne dome structure.
On the rightmost part of the picture the foundations of the chiller station are clearly visible. This station is one of many facilities designed to keep the telescope cold during the day so that at night it's at the same temperature as its surroundings; this is key to minimising turbulence inside the dome and thermal deformations of the telescope. In the centre of this image are the foundations for the main structure that will host the telescope and its instruments within the dome, all in all weighing in at 4600 tonnes. Almost 9000 cubic metres of concrete were required to complete the foundations in which some of the state-of-the-art seismic devices have already been installed.
Several cranes, with capacities ranging from 250 to 600 tonnes, are already operational and assisting the erection of these concrete structures. In particular, the crane seen in the leftmost part of the picture will be required to assemble both the dome and the main structure. At almost 120 m in height and capable of reaching as far as 80 m, this crane is visible from several kilometers away, and illustrates just how extremely large the ELT will be.
Credit:
About the Image
| | |
| --- | --- |
| Id: | potw2248a |
| Type: | Photographic |
| Release date: | 28 November 2022, 06:00 |
| Related announcements: | ann23005 |
| Size: | 5464 x 3640 px |
---
About the Object
---
Image Formats
---
Zoomable
---
Wallpapers
---