Zooming in on Star Formation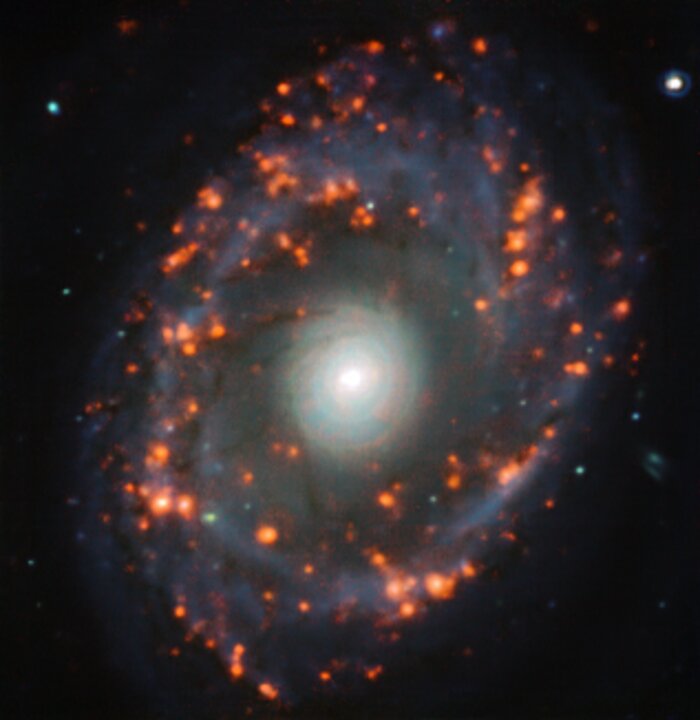 Discovered in the year 1836 by John Herschel, NGC 6902 is a beautiful spiral galaxy located more than 130 million light-years away in the constellation of Sagittarius, the Archer. This image was taken with MUSE, the Multi Unit Spectroscopic Explorer instrument attached to one of the four 8.2-metre telescopes that make up the VLT, and shows the galaxy from a unique perspective. A zoom in towards the galaxy's centre, the image shows a nuclear ring where the orange glow of intense star formation is visible. 
Inside this ring lies a faint and small bar of stars. Researchers found that stars within it are distributed differently depending on their age, with younger stars aligned along the bar and older stars more dispersed. These locations of the young and old stars within the central bar of NGC 6902 confirm predictions made years earlier from simulations and models. This is the first time these predictions of galactic structure were confirmed with observations thanks to the incredible spatial resolution of the MUSE instrument.
Credit:
About the Image
| | |
| --- | --- |
| Id: | potw2106a |
| Type: | Observation |
| Release date: | 8 February 2021, 06:00 |
| Size: | 317 x 326 px |
---
About the Object
---
Image Formats

Fullsize Original

Large JPEG
50.0 KB

Screensize JPEG
125.5 KB
---
Zoomable
---
Wallpapers
---
Coordinates
| | |
| --- | --- |
| Position (RA): | 20 24 28.17 |
| Position (Dec): | -43&deg 39' 13.25" |
| Field of view: | 1.06 x 1.09 arcminutes |
| Orientation: | North is 0.1° right of vertical |