The Halo of Galaxy Messier 87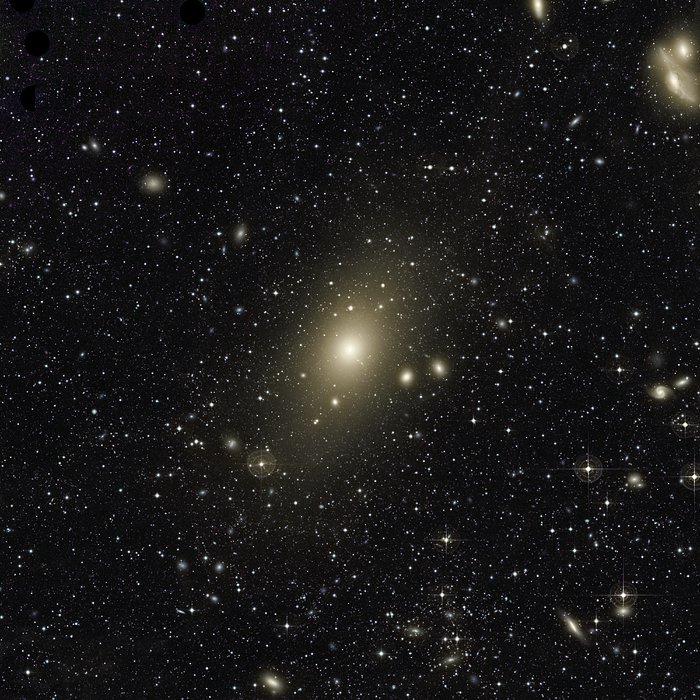 The huge halo around giant elliptical galaxy Messier 87 appears on this very deep image. An excess of light in the top-right part of this halo, and the motion of planetary nebulae in the galaxy, are the last remaining signs of a medium-sized galaxy that recently collided with Messier 87.
The image also reveals many other galaxies forming the Virgo Cluster, of which Messier 87 is the largest member. In particular, the two galaxies at the top right of the frame are nicknamed "the Eyes".
Credit:
About the Image
| | |
| --- | --- |
| Id: | eso1525a |
| Type: | Observation |
| Release date: | 25 June 2015, 12:00 |
| Related releases: | eso1907, eso1525 |
| Size: | 4001 x 4000 px |
---
About the Object
---
Image Formats
---
Zoomable
---
Wallpapers
---
Coordinates
| | |
| --- | --- |
| Position (RA): | 12 30 49.27 |
| Position (Dec): | 12&deg 23' 27.89" |
| Field of view: | 96.66 x 96.63 arcminutes |
| Orientation: | North is 0.0° right of vertical |