Announcement
Press conference at ESO on groundbreaking Milky Way results from the Event Horizon Telescope Collaboration
28 April 2022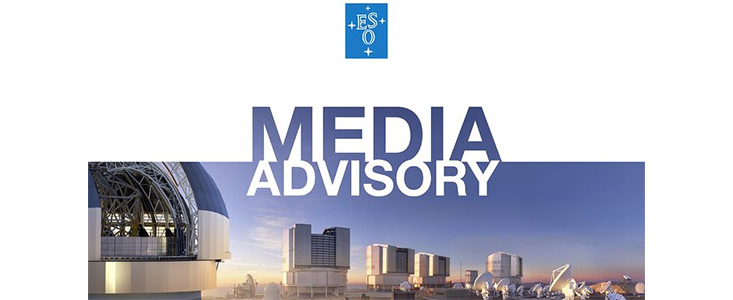 The European Southern Observatory (ESO) and the Event Horizon Telescope (EHT) project will hold a press conference to present new Milky Way results from the EHT.
When: On 12 May at 15:00 CEST
Where: Eridanus Auditorium, ESO Headquarters, Garching bei München, Germany and online
What: A press conference to present groundbreaking Milky Way results from the EHT
Who: The ESO Director General will deliver the opening words. EHT Project Director Huib Jan van Langevelde and EHT Collaboration Board Founding Chair Anton Zensus will also deliver remarks. A panel of EHT researchers will explain the result and answer questions. This panel is composed of:

Thomas Krichbaum, Max Planck Institute for Radio Astronomy, Germany
Sara Issaoun, Center for Astrophysics | Harvard & Smithsonian, US and Radboud University, the Netherlands
José L. Gómez, Instituto de Astrofísica de Andalucía (CSIC), Spain
Christian Fromm, Würzburg University, Germany
Mariafelicia de Laurentis, University of Naples "Federico II" and the National Institute for Nuclear Physics (INFN), Italy  

RSVP: This invitation is addressed to media representatives. To participate in the conference, members of the media must register by completing an online form before May 9 23:59 CEST. Please indicate whether you wish to attend in person or if you will participate online. On-site journalists will have priority to query panellists during the conference, with reporters watching remotely also being able to send in questions. In-person individual interviews will also be possible immediately after the conference. Masks will be mandatory for participants in the in-person press conference. 
The conference will be streamed online on the ESO website and on the ESO YouTube channel. There will be simultaneous press conferences organised around the world, including in Washington D.C., Santiago de Chile, Mexico City, Tokyo, and Taipei.
The ESO press release about the results presented on 12 May will be publicly issued shortly after the start of the press conference, at 15:07 CEST. Translations of the press release will be available in multiple languages, along with extensive supporting audiovisual material.
For any further information and updates, please also check the Event Horizon Telescope webpage at https://eventhorizontelescope.org.
YouTube event
Following the press conference, ESO will host an online event for the public on its YouTube channel: a live question and answer session where members of the public will have the opportunity to query another panel of EHT experts. This panel will be composed of:
Sera Markoff, University of Amsterdam, Netherlands
Michael Janssen, Max Planck Institute for Radio Astronomy, Germany
Rocco Lico, Astrophysics Institute of Andalucía, Spain and Istituto di Radioastronomia, Italy
Roman Gold, Southern Denmark University, Denmark
Violette Impellizzeri, Leiden University, Netherlands
Ziri Younsi, University College London, UK
This YouTube event will start at 16:30 CEST and last for approximately one hour. No registration is required. Members of the public will be able to ask questions on Twitter (#askEHTeu) or using comments on YouTube.
More Information
Members of the press, including online media and broadcasters, may sign up to receive the ESO Media Newsletter. Under normal circumstances this contains ESO press releases sent about 48 hours in advance of public dissemination as well as latest videos and footage from ESO, available for use in documentaries, movies, video news etc. To sign up to the ESO Media Newsletter, please fill out this form.
Links
Contacts
Bárbara Ferreira
ESO Media Manager
Garching bei München, Germany
Tel: +49 89 3200 6670
Cell: +49 151 241 664 00
Email: press@eso.org