Announcement
The Messenger No. 182 Now Available
2 March 2021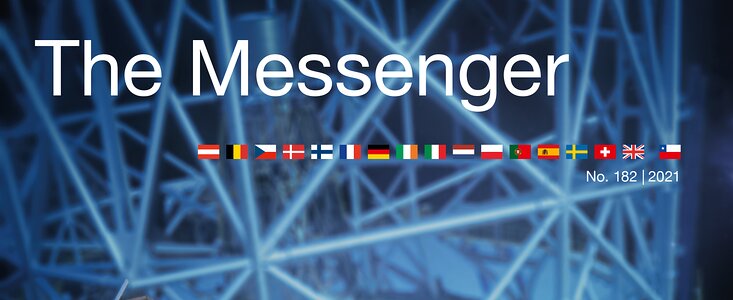 The latest edition of ESO's journal, The Messenger, is now available online. This is a special issue dedicated to the instrumentation programme for ESO's Extremely Large Telescope (ELT).
Selecting instruments for any telescope is a crucial step, making sure that the astronomical community it serves can undertake the scientific projects for which the telescope was designed. ESO has been working with its community of astronomers and instrument builders to establish the sequence in which the instruments planned for the ELT will be built and delivered to the observatory. This edition of The Messenger provides a status overview of the ELT instrumentation programme. Highlights from this special issue:
Instrumentation for ESO's Extremely Large Telescope
SUPER — AGN Feedback at Cosmic Noon
Mapping the Youngest and Most Massive Stars in the Tarantula Nebula with MUSE-NFM
Download The Messenger in PDF format or visit The Messenger website to subscribe and receive a free printed copy.
This product is also available in the ESOshop.
Links
Contacts
Mariya Lyubenova
Editor of The Messenger
ESO Head of Media Relations
Garching bei München, Germany
Email: mlyubeno@eso.org