Announcement
The Messenger No. 170 Now Available
22 December 2017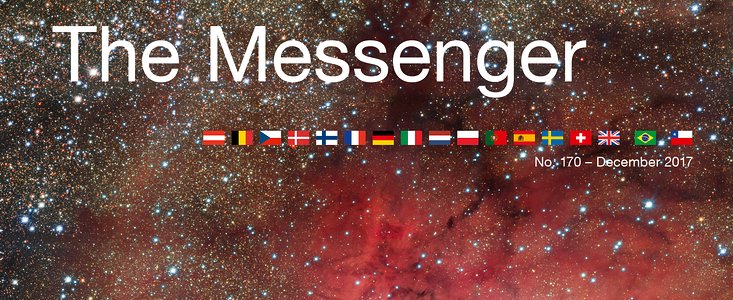 The latest edition of ESO's quarterly journal, The Messenger, is now available online. Find out the latest news from ESO, on topics ranging from new instruments to the latest science discoveries.
Highlights of this edition include:
Astronomy in Australia
First light and science verification for the GRAVITY instrument
Observing gas stripping in galaxies with MUSE, and MUSE WFM AO science verification
Unveiling the nature of giant ellipticals and their stellar halos with the VST
Dissecting the core of the Tarantula Nebula with MUSE
Download The Messenger in PDF format or visit The Messenger website to subscribe and receive a free printed copy.
This product is also available in the ESOshop.
Links
Contacts
Richard Hook
ESO Public Information Officer
Garching bei München, Germany
Tel: +49 89 3200 6655
Cell: +49 151 1537 3591
Email: rhook@eso.org