Announcement
Media Advisory: Invitation to ESO Headquarters Extension Inauguration
28 November 2013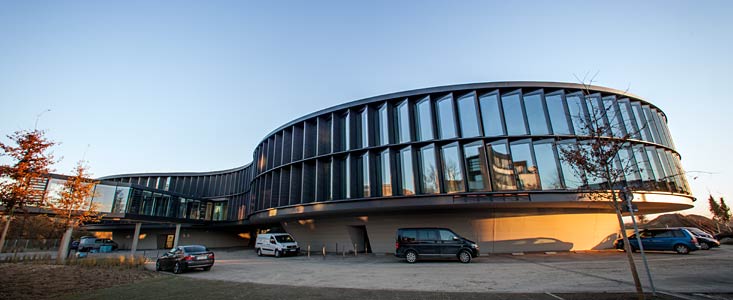 Media representatives are invited to attend the inauguration of the new ESO Headquarters extension buildings on 4 December 2013 at 18:00 CET, in Garching bei München, Bavaria, Germany.
As the only international scientific organisation in Bavaria, ESO plays an important role in sustaining Bavaria's position as a leading international research region. The new office and conference building together with the technical building have a total area of 13 200 square metres, which more than doubles ESO's Headquarters total area. The new buildings will strengthen ESO's presence on the Garching research campus, allowing the organisation to further expand its economic and scientific contribution to the region.
ESO provides 450 high-tech jobs in Bavaria, and will use the additional office space to bring all of its staff together, along with the students who are enrolled in the ESO Fellowship Programme (a significant fraction of whom come from German universities).
The new technical building will nurture the technological and scientific innovations that ESO's European Extremely Large Telescope will require, thus helping to promote Bavaria's role in fostering high technology industries. The building will also host one of the largest computer archives of astronomical data in the world.
The celebration will be attended by members of the ESO Council, local authorities, the architects Auer+Weber+Assoziierte, the general contractor BAM Deutschland AG and the ESO management team, who will be available for interview opportunities. The inauguration event will feature speeches from those involved with the project, guided tours and a buffet.
Media representatives wishing to attend the event are invited to complete and submit this form.
Time: 4 December 2013, 18:00–22:00 CET
Place: ESO Headquarters, Karl-Schwarzschild-Strasse 2, D-85748 Garching bei München, Germany
Links
Contacts
Lars Lindberg Christensen
Head, ESO education and Public Outreach Department
Garching bei München, Germany
Tel: +49 89 3200 6761
Cell: +49 173 3872 621
Email: lars@eso.org