Announcement
ESO Industry Day in Poland
22 January 2013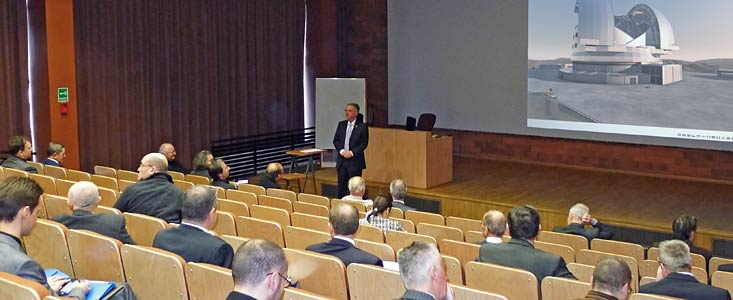 On 22 January 2013 an ESO Industry Day was held at the Nicolaus Copernicus Astronomical Center in Warsaw, Poland. The meeting offered representatives of Polish companies and institutions information about ESO, and the potential opportunities — should Poland at some point join the organisation — to take part in its industrial activities.
"We are delighted to have this opportunity to inform industry in Poland about ESO's current facilities and its challenging future plans," said Tim de Zeeuw, ESO's Director General, at the opening of the meeting. "Many exciting opportunities for ESO's Member States will appear in the near future, both for scientists and for industry, now that the E-ELT programme has been fully approved by the ESO Council."
Modern astronomical telescopes and detectors are composed of many elements, which have to be designed by engineers and scientists, and produced by scientific and technological companies and institutes. Observatories need advanced infrastructure and equipment to operate. This could present opportunities for Polish enterprises and institutes to cooperate, bid for contracts and develop the innovative technology needed.
ESO was represented by the Director General, the heads of the divisions responsible for administration and technology, and the E-ELT Project Manager, who presented the plans for the European Extremely Large Telescope (E-ELT), which has a total budget of more than one billion euros.
Alistair McPherson, Project Manager of the E-ELT, concluded: "The E-ELT project will be a huge challenge. The construction is expected to start later this year and will last more than a decade. Contributions from state-of-the-art industries in the ESO Member States in many fields will be needed."
"The interest of entrepreneurs in Poland is high," explained Prof. Marek Sarna, Director of the Nicolaus Copernicus Astronomical Center, a scientific unit of the Polish Academy of Sciences. "At the industry day we received interest from representatives of companies from different industries, in particular the high-tech sectors, as well as polytechnics. There were also representatives of institutions and government agencies."
The industry day was organised by the Polish Astronomical Society (PTA) and the Nicolaus Copernicus Astronomical Center of the Polish Academy of Sciences (CAMK PAN), together with ESO.
Links
Contacts
Rowena L Sirey
ESO
Garching, Germany
Tel: +49 89 3200 6843
Email: rsirey@eso.org
Richard Hook
ESO, La Silla, Paranal, E-ELT and Survey Telescopes Public Information Officer
Garching bei München, Germany
Tel: +49 89 3200 6655
Cell: +49 151 1537 3591
Email: rhook@eso.org
Bożena Czerny
The Nicolaus Copernicus Astronomical Center, Polish Academy of Sciences
Warsaw, Poland
Tel: +48223296131
Email: bcz@camk.edu.pl
Krzysztof Czart
ESO Science Outreach Network representative in Poland
Toruń, Poland
Tel: +48 513 733 282
Email: eson-poland@eso.org
ESO Industry Day in Poland
Email: eso-industry@pta.edu.pl