Announcement
Science in School Issue 25: Out Now!
3 December 2012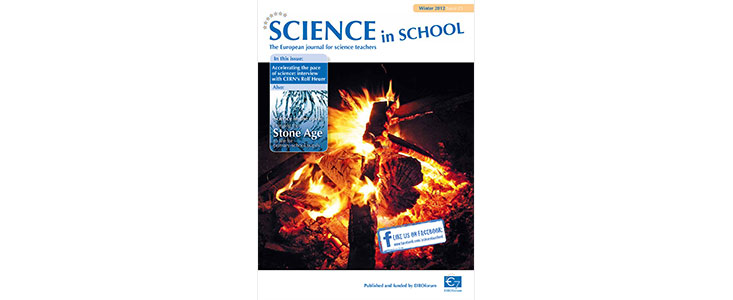 The latest issue of the free magazine Science in School is now available online and in print. The European journal, dedicated to science teachers and educators, offers numerous science articles and activities to help inspire and encourage school-aged students.
Some of the highlights of this issue include an interview with CERN's Director General, Rolf Heuer, about the Large Hadron Collider and the Higgs Boson, and an article about the search for new elements for the periodic table. There's also a science education project showing you how you can follow in Galileo Galilei's footsteps by rediscovering the moons of Jupiter in the classroom. Students can learn about the complex and error prone process of biological cell division, and how new research has helped in our understanding of this mechanism. Another topic covered is the work done by scientists seeking a more fundamental definition of the kilogram.
Science in School is published by EIROforum, a collaboration between eight European intergovernmental scientific research organisations, of which ESO is a member. The journal addresses science teaching both across Europe and across disciplines, highlighting the best in teaching and cutting-edge research.
You can find numerous articles as well as their translated versions in many European languages online. You can also volunteer to translate Science in School articles into your own language for publication online, please see the guidelines on the Science in School website.
Links