Announcement
Café & Kosmos 10 January 2012
Particle accelerators: In search of new physics
9 January 2012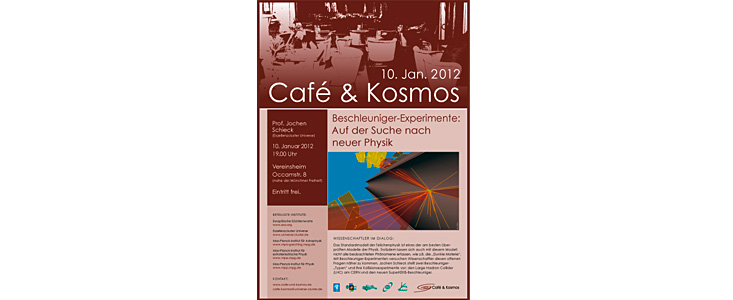 with Prof. Jochen Schieck, Excellence Cluster Universe
The Standard Model of particle physics is one of the best-validated models in physics today. Nevertheless, this model fails to account for some observed phenomena, such as dark matter, or the fact that there is no longer any antimatter in the Universe. With particle accelerators, scientists are trying to recreate the conditions in the early Universe and attempt to tackle these open questions.
At Café & Kosmos on 10 January 2012, Professor Jochen Schieck (Excellence Cluster Universe) will describe two new accelerators before discussing their collision experiments: the Large Hadron Collider (LHC) at CERN and the new Super KEKB accelerator, which will start up in 2014, from the Japanese High Energy Accelerator Research Organisation, KEK. While the experiments at the LHC are tuned for very high energies, the physicists are adjusting the "newcomer" Super KEKB for maximum precision. Jochen Schieck will discuss with the visitors of the Café & Kosmos why both approaches are important in order to expand our understanding of physics.
Please note that the Café & Kosmos events take place in German.
What: Particle accelerators: In search of new physics
When: Tuesday, 10 January 2012, 19:00 until approximately 20:30
Where: Vereinsheim, Occamstr. 8, 80802 München, near Münchener Freiheit
Admission is free.
Links
Contacts
Olivier Hainaut
ESO
Karl Schwarzschildstr. 2
85748 Garching bei München
Tel: +49 89 3200 6752
Email: ohainaut@eso.org

Barbara Wankerl
Excellence Cluster Universe
Boltzmannstr. 2
85748 Garching bei München
Tel: +49 89 35831 7105
Email: barbara.wankerl@universe-cluster.de