Stars circle La Silla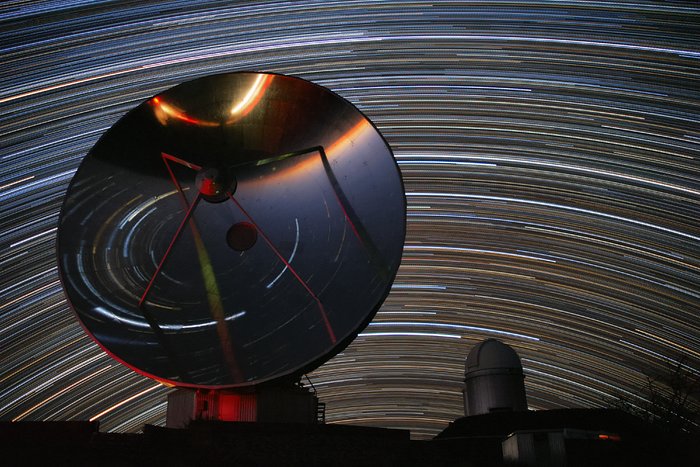 This image by ESO Photo Ambassador Alexandre Santerne shows the Swedish–ESO Submillimetre Telescope (SEST) on the left, alongside the ESO 3.6-metre telescope on the right. In the background bright star trails circle the La Silla Observatory where the telescopes are situated, in the outskirts of the Atacama Desert in Chile.
Star trails like these are created by using a long exposure to capture the apparent motion of the stars in the night sky as the Earth rotates. This image is a composite of 250 consecutive one-minute exposures, spanning four hours. A flipped version of the star trails is also visible as a reflection in the dish of the telescope. The reflection also includes the red lights of a car passing by.
La Silla is ESO's first observatory and has been a major ESO stronghold since the 1960s. SEST was, at the time of construction, the only large submillimetre telescope in the southern hemisphere. Since it was decommissioned in 2003 SEST has been superseded by other submillimetre telescopes such as the Atacama Pathfinder Experiment telescope and the Atacama Large Millimeter/submillimeter Array, both located on Chile's Chajnantor Plateau.
The ESO 3.6-metre telescope is host to HARPS, the High Accuracy Radial velocity Planet Searcher — the world's foremost exoplanet hunter.
Alexandre submitted this photograph to the Your ESO Pictures Flickr group. The Flickr group is regularly reviewed and the best photos are selected to be featured in our popular Picture of the Week series, or in our gallery.
Links
Credit:
About the Image
| | |
| --- | --- |
| Id: | potw1527a |
| Type: | Photographic |
| Release date: | 6 July 2015, 10:00 |
| Size: | 4368 x 2912 px |
---
About the Object
---
Image Formats
---
Zoomable
---
Wallpapers
---