Ancient constellations over ALMA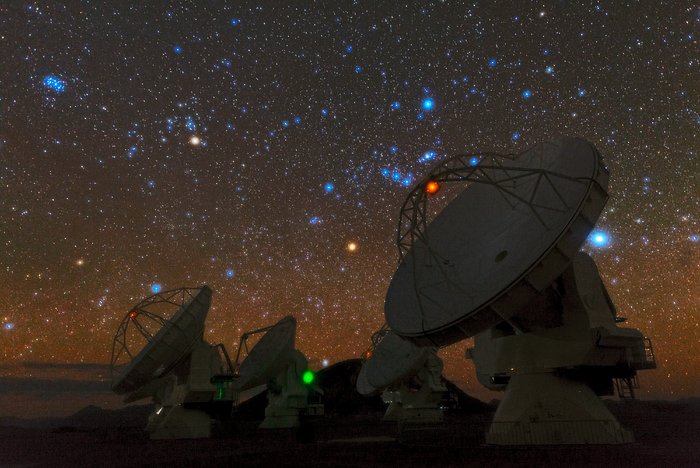 Babak Tafreshi, one of the ESO Photo Ambassadors, has captured the antennas of the Atacama Large Millimeter/submillimeter Array (ALMA) in an enthralling image combining the beauty of the southern sky with the amazing dimensions of the biggest astronomical project in the world.
Thousands of stars are revealed to the naked eye in the clear skies over the Chajnantor Plateau. Its dry and transparent night sky is one of the reasons ALMA has been built here. Surprisingly bright in the upper left corner of the picture, there is a tightly packed bunch of young stars, the Pleiades Cluster, which was already known to most ancient civilisations. The constellation of Orion (The Hunter) is clearly visible over the closest of the antennas — the hunter's belt is formed by the three blue stars just to the left of the red light. According to classic mythology, Orion was a hunter who chased the Pleiades, the beautiful daughters of Atlas. When seen through the thin atmosphere over the Atacama, it almost seems that this epic hunt is really happening.
ALMA, an international astronomy facility, is a partnership of Europe, North America and East Asia in cooperation with the Republic of Chile. ALMA construction and operations are led on behalf of Europe by ESO, on behalf of North America by the National Radio Astronomy Observatory (NRAO), and on behalf of East Asia by the National Astronomical Observatory of Japan (NAOJ). The Joint ALMA Observatory (JAO) provides the unified leadership and management of the construction, commissioning and operation of ALMA.
Credit:
About the Image
| | |
| --- | --- |
| Id: | potw1347a |
| Type: | Photographic |
| Release date: | 25 November 2013, 10:00 |
| Size: | 5982 x 4003 px |
---
About the Object
---
Image Formats
---
Zoomable
---
Wallpapers
---