Wide-field view of the region of the sky hosting NGC 7727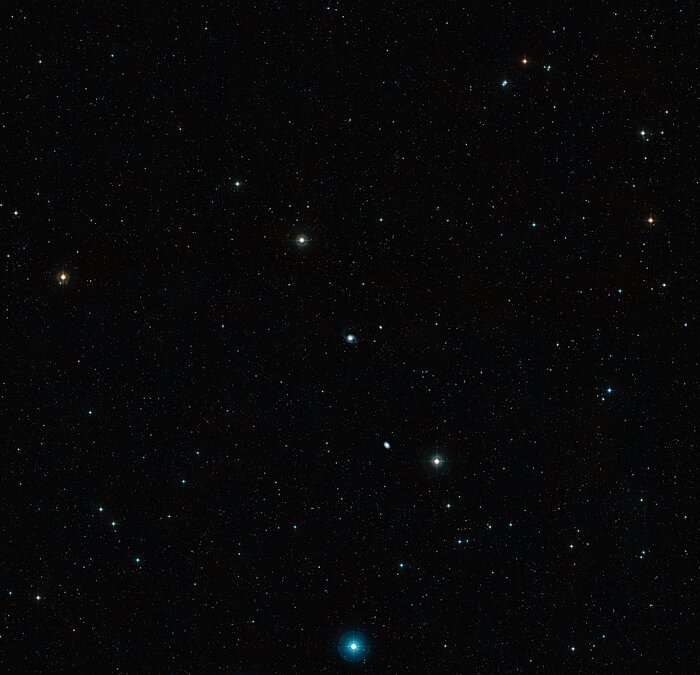 This image from the Digitized Sky Survey (DSS) shows the region of the sky around NGC 7727, a galaxy located 89 million light-years away from Earth in the constellation Aquarius. The galaxy is the bright spot in the centre. 
NGC 7727 is home to the closest pair of supermassive black holes to Earth found to date. It is also the pair with the smallest separation between two supermassive black holes — observed to be just 1600 light-years apart in the sky.
Credit:
ESO/Digitized Sky Survey 2. Acknowledgement: Davide De Martin
About the Image
| | |
| --- | --- |
| Id: | eso2117d |
| Type: | Observation |
| Release date: | 30 November 2021, 14:00 |
| Related releases: | eso2211, eso2117 |
| Size: | 15663 x 15100 px |
---
About the Object
---
Image Formats
---
Zoomable
---
Wallpapers
---
Coordinates
| | |
| --- | --- |
| Position (RA): | 23 39 54.29 |
| Position (Dec): | -12&deg 17' 11.73" |
| Field of view: | 262.82 x 253.38 arcminutes |
| Orientation: | North is 0.2° right of vertical |