Sorry! This page is not yet available in your preferred language, so we're displaying the original version instead.
Announcement
Grupo de embajadores de la UE visita Paranal
24 June 2022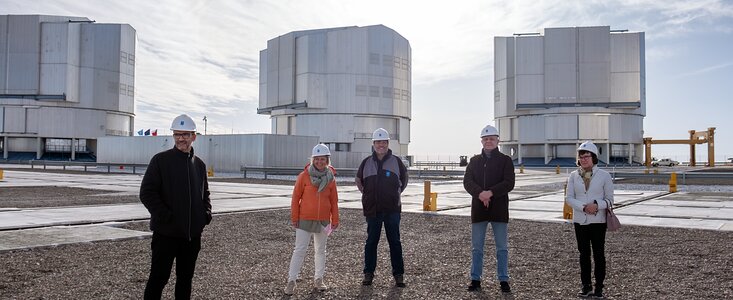 El 23 de junio, ESO tuvo el placer de recibir a siete embajadores ante Chile en su Observatorio Paranal, en el norte del país.
El grupo estuvo conformado por los embajadores Eija Rotinen, Carmen Gonsalves y Carlos Sousa Amaro de los Estados Miembro de ESO Finlandia, Holanda y Portugal, respectivamente. Al grupo también se unió Florice Mocanu, embajador de Rumania. Durante su visita, los representantes se reunieron con Andreas Kaufer, Director del observatorio.
El grupo, que representa a seis países de la UE, visitó el Observatorio Paranal de ESO siguiendo la iniciativa UExtodoChile en Antofagasta, cuyo objetivo es promover el papel de la UE como un actor global y fortalecer además las relaciones con las regiones de Chile. Dada su proximidad, los embajadores aprovecharon la oportunidad para visitar algunas de las avanzadas instalaciones astronómicas de ESO.
El Observatorio Paranal de ESO está ubicado en el Desierto de Atacama de Chile a 2635 metros por sobre el nivel del mar. Debido a su ubicación tan remota, este sitio ofrece algunos de los cielos más oscuros del mundo. En él se encuentran varios telescopios, como el Very Large Telescope (VLT), el Visible and Infrared Survey Telescope for Astronomy (VISTA), y el VLT Survey Telescope. Además, en las cercanías de Paranal, actualmente se encuentra en construcción el Extremely Large Telescope de ESO. Cuando se complete más adelante en esta década, este revolucionario telescopio terrestre tendrá un espejo principal de 39 metros y será el telescopio de luz infrarroja y visible más grande del mundo: el ojo más grande del mundo en el cielo.
En sí, la obra en Paranal demuestra la importancia de la cooperación intergubernamental científica y tecnológica entre los Estados Miembro de ESO en Europa y Chile.
Contacts
Francisco Rodríguez
ESO Press Officer Chile
Santiago, Chile
Email: francisco.rodriguez@eso.org
Bárbara Ferreira
ESO Media Manager
Garching bei München, Germany
Tel: +49 89 3200 6670
Email: press@eso.org