Announcement
Challenges in Communication of Astronomy and Space Exploration
Communicating Astronomy with the Public 2013 (CAP2013) Conference
13 May 2013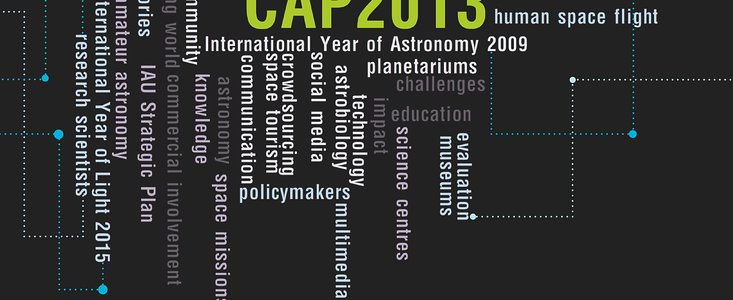 The 2013 Communicating Astronomy with the Public (CAP) Conference will take place in Warsaw, Poland, between 14–18 October. Public information officers, communicators, journalists and formal and informal educators are invited to debate the latest challenges in communicating astronomy and share their success stories and lessons learnt.
CAP2013 will expand the discussion topics to include space exploration, space tourism and commercial involvement in space-related activities. As the venue is a modern planetarium, special attention will also be given to audiovisual and multimedia communications in the widest sense. Popular topics from previous CAP conferences continue to be on the agenda.
Interested participants are invited to submit abstracts before 21 June 2013 under the following major themes:
Social media for astronomy outreach
Media relations
Multimedia communication, including tools and techniques
Crowdsourcing and citizen science projects
Alternative ways for communicating astronomy with the public
Using astronomy outreach to thrill children with science and technology
Evaluation, impact and monitoring of outreach projects
Support for science policy-makers
Social impact of astronomy communication
Astronomy communication in the developing world
Communicating Astronomy with the Public in the context of the IAU Strategic Plan
CAP community involvement in International Year of Light 2015
Abstract submission can be done here. Early bird registration — 300 € (including conference dinner) — will be available until 21 June 2013. Students and other participants seeking support are invited to send a motivation letter with the subject "CAP2013 Support" to support@cap2013.pl. More information, including important dates, accommodation and conference venue can be found on the conference website.
The meeting is organised by the IAU Commission 55: Communicating Astronomy with the Public, in cooperation with the Warsaw University of Technology (Faculty of Power and Aeronautical Engineering) and the Copernicus Science Centre.
Links
Contacts
Oana Sandu
Community Coordinator
The education and Public Outreach Department
Tel: +49 89 320 069 65
Email: osandu@partner.eso.org