Announcement
Live Streaming of ALMA Inauguration
Watch the ceremony online on 13 March
1 March 2013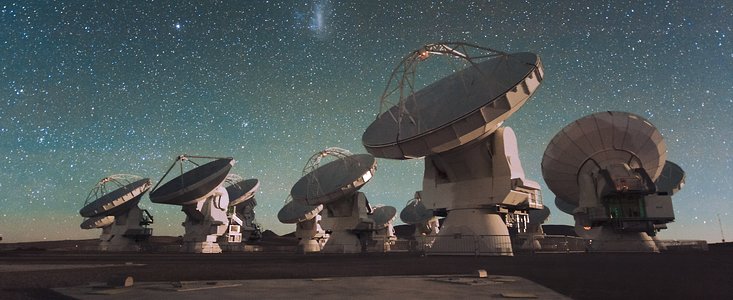 On 13 March 2013 the Atacama Large Millimeter/submillimeter Array (ALMA) — the largest ground-based astronomical project in the world — will be inaugurated, marking the transition from construction project to fully fledged observatory. To enable people around the world to witness first-hand this exciting milestone in humanity's quest to understand the cosmos, a live video stream of the inauguration will be webcast from the observatory's Operations Support Facility, at an altitude of 2900 metres in the Chilean Andes. The stream of the day's events will run from 14:30 UT to around 16:00 UT.
The stream will be available on the day at http://www.almaobservatory.org/en/videos/scenes-from-the-alma-inauguration-day/. The President of Chile, Sebastián Piñera, along with hundreds of guests including representatives from the global scientific community, current and former ALMA personnel and its executives, as well as the communities located near ALMA, will celebrate the success of the project. The latest results from this state-of-the-art observatory will also be presented.
More Information
The Atacama Large Millimeter/submillimeter Array (ALMA), an international astronomy facility, is a partnership of Europe, North America and East Asia in cooperation with the Republic of Chile. ALMA is funded in Europe by the European Organisation for Astronomical Research in the Southern Hemisphere (ESO), in North America by the U.S. National Science Foundation (NSF) in cooperation with the National Research Council of Canada (NRC) and the National Science Council of Taiwan (NSC) and in East Asia by the National Institutes of Natural Sciences (NINS) of Japan in cooperation with the Academia Sinica (AS) in Taiwan.
ALMA construction and operations are led on behalf of Europe by ESO, on behalf of North America by the National Radio Astronomy Observatory (NRAO), which is managed by Associated Universities, Inc. (AUI) and on behalf of East Asia by the National Astronomical Observatory of Japan (NAOJ). The Joint ALMA Observatory (JAO) provides unified leadership and management of the construction, commissioning and operation of ALMA.
Links
Contacts
Douglas Pierce-Price

Public Information Officer, European Southern Observatory


Garching bei München, Germany


Tel: +49 89 3200 6759

Email: dpiercep@eso.org
Richard Hook

Public Information Officer, European Southern Observatory

Garching bei München, Germany

Tel: +49 89 3200 6655

Cell: +49 151 1537 3591

Email: rhook@eso.org