Announcement
Media Advisory: Visitors at ESO Headquarters to Build Full-size Replica of World's Largest Planned Telescope Mirror
5 October 2011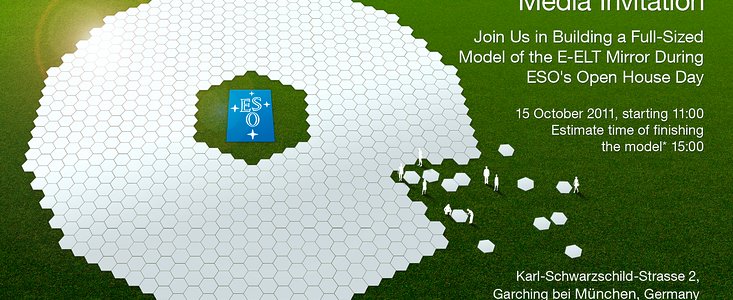 For a German version, please go here.
Media representatives are invited to attend the first live construction of a life-size replica of the 40-metre mirror for the planned European Extremely Large Telescope (E-ELT). The event takes place between 11:00 and 18:00 on Saturday 15 October 2011 at ESO Headquarters in Garching bei München weather conditions permitting.
The E-ELT mirror is so large that it is difficult to envisage. The full-size replica will put this feat of engineering into perspective for the first time. Journalists attending the event will find unique photo opportunities to capture the immensity of the world's largest planned telescope and the chance to interview E-ELT scientists. An E-ELT scale model will also be present to show what the entire observatory will look like when finished.
The E-ELT is ESO's most ambitious project so far. With start of operations planned for early in the next decade, the E-ELT will tackle the biggest scientific challenges of our time, and aim for a number of notable firsts, including tracking down Earth-like planets around other stars in the habitable zones where life could exist. The E-ELT will be constructed in Chile, with scientific and organisational support provided by astronomers and engineers based at ESO's Headquarters in Garching. Click here  to watch a short video about the E-ELT.
This event is part of the Open House Day event organised on the entire Garching Research Campus. For more information about the Open House Day at ESO, please click here.
Members of the media should register in advance by providing their full name, affiliation and contact details to osandu@eso.org
Links
Contacts
Oana Sandu
Community Coordinator
ESO, Garching, Germany
Phone: +49 89 3200 6965
E-mail: osandu@eso.org
Einladung an die Medien: Besucher des ESO-Hauptsitzes bauen den Hauptspiegel des größten geplanten optischen Teleskopes der Welt in Originalgröße nach
Vertreter der Medien sind herzlich eingeladen, live dem Nachbau des 40-Meter-Spiegels des geplanten European Extremely Large Telescope (E-ELT) in Originalgröße beizuwohnen. Die Veranstaltung findet – gutes Wetter vorausgesetzt – am Samstag, dem 15. Oktober 2011 von 11:00 bis 18:00 am Hauptsitz der Europäischen Südsternwarte (ESO) in Garching bei München statt.
Der Hauptspiegel des E-ELT wird so groß sein, dass man ihn sich nur schwer vorstellen kann. Der originalgetreue Nachbau wird dieses Meisterstück der Ingenieurskunst ins rechte Licht setzen. Medienvertreter, die an der Veranstaltung teilnehmen, werden die einzigartige Gelegenheit bekommen, die Dimensionen des Teleskopes, das das größte optische Teleskop der Welt werden wird, fotografisch zu dokumentieren. Außerdem haben sie die Gelegenheit, am E-ELT-Projekt beteiligte Wissenschaftler zu interviewen. Ein maßstabsgetreues E-ELT-Modell, das zeigt wie das vollständige Obseravtorium ausehen wird, wenn es fertiggestellt ist, ist zusätzlich vorhanden.
Das E-ELT ist das bislang ehrgeizigste Projekt der ESO. Wenn es Anfang des nächsten Jahrzehnts den Betrieb aufnimmt, soll das E-ELT sich den größten wissenschaftlichen Herausforderungen stellen. Dazu gehört unter anderem der Nachweis eines erdähnlichen Planeten in der so genannten habitablen Zone eines Sterns, auf dem sich also Leben bilden könnte. Das E-ELT wird in Chile errichtet werden, mit organisatorischer und wissenschaftlicher Unterstützung von Astronomen und Ingenieuren vom ESO-Hauptsitz in Garching.
Hier
 finden Sie ein kurzes Video über das E-ELT.
Die Veranstaltung ist Teil der Aktivitäten anläßlich des Tages der offenen Tür des Forschungscampus Garching, an dem sich auch viele andere Forschungsinstitute in der unmittelbaren Umgebung beteiligen.  Weitere Inforamtionen über den Tag der offenen Tür bei der ESO finden sie
hier
.
Presse- und Medienvertreter werden gebeten sich unter Angabe ihres vollen Namens, ihrer Zugehörigkeit und Kontaktdaten bei Oana Sandu (
osandu@eso.org
) anzumelden.

Links

Contacts
Oana Sandu
Community Coordinator
ESO, Garching, Germany
Phone: +49 89 3200 6965
E-mail:
osandu@eso.org