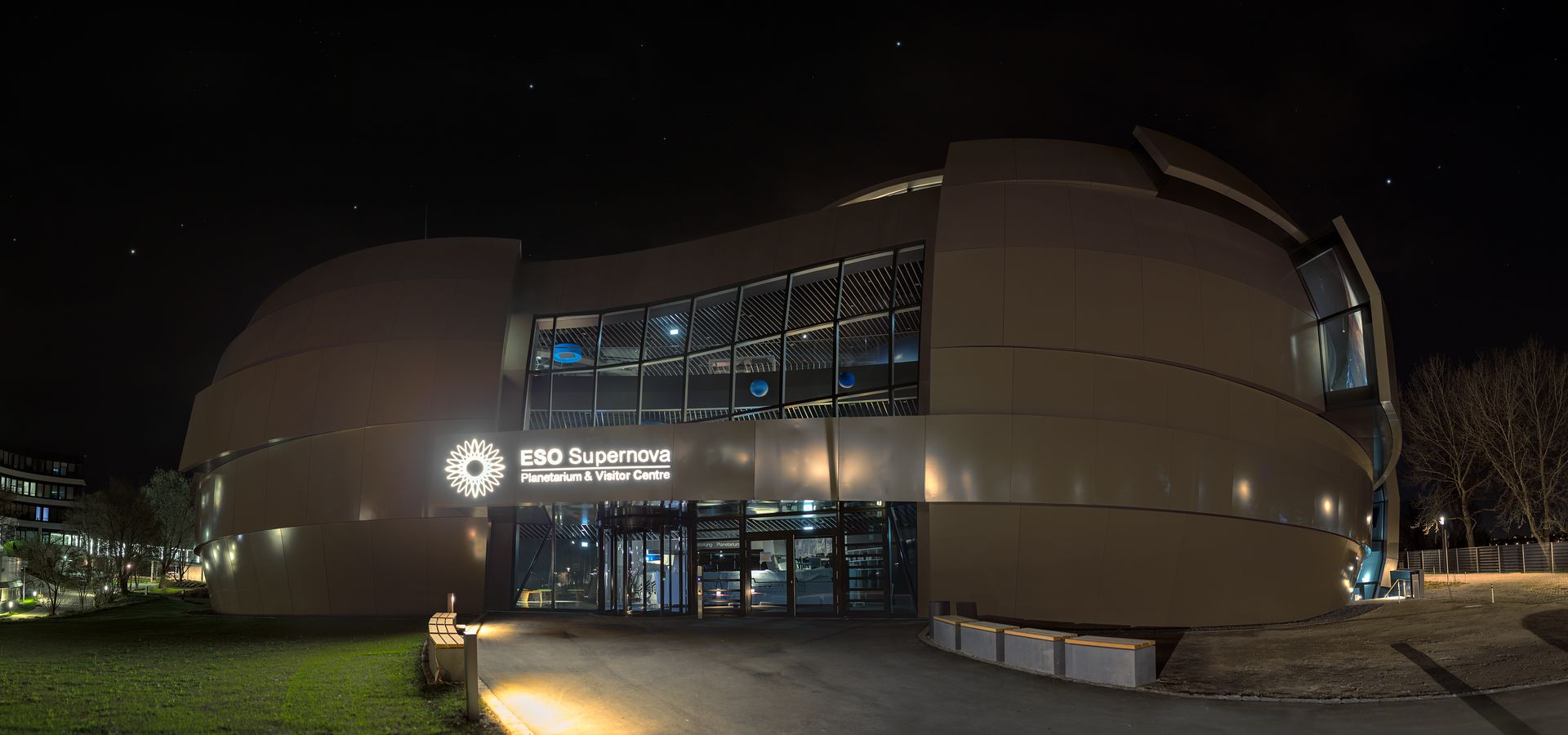 Stephen Molyneux describes his visit to the ESO Supernova Planetarium & Visitor Centre
4 May 2018
What you'll discover in this blog post:
What the ESO Supernova is like now it's open to the public
The various shows, exhibits, tours and other experiences you can enjoy
The ESO Supernova Planetarium & Visitor Centre opened its doors to the public on 28 April 2018 and one of our writers, Stephen Molyneux, was there to check it out for the first time. The centre is located right next to ESO Headquarters in Garching bei München, Germany, and it's a full-on astronomical experience complete with a huge exhibition and immersive planetarium shows. Stephen reports on his visit.
The first thing that strikes me about the ESO Supernova Planetarium & Visitor Centre is the building itself, which is architecturally magnificent. It was designed by the architecture firm Bernhardt + Partner to look like a double star system with one transferring mass to the other. This cosmic event would eventually result in one of the stars exploding as a supernova in a brilliant flash of light — hence the centre's name.
Before I have a full look inside I get the chance to chat to Tania Johnston, ESO Supernova coordinator. She tells me that the idea for the centre was first proposed in 2011 and construction started February 2015.
"It's fantastic to finally have the Supernova open and I'm really looking forward to seeing the response from members of the public," she says. "It's been a lot of hard work from a huge number of people and I am so grateful to each and every one of them. This project couldn't have happened without the staff and volunteers who have helped to create this amazing facility."
This ESOcast Light explores the newly-opened ESO Supernova Planetarium & Visitor Centre.
Credit: ESO
Entering the building, I step into a large open space, with Jupiter and Saturn hanging over my head and beautiful astronomical images of galaxies and nebulae surrounding me. I'm also greeted by several smiling faces from members of staff and volunteers. Everyone is super friendly and happy to help, whether it was directing me to the bathroom or explaining more about the centre itself. They all seem to be buzzing with excitement and pride at the opening — they have, after all, worked hard on making this dream a reality.
Time-lapse of the construction of the ESO Supernova Planetarium & Visitor Centre in Garching near Munich in Germany.
Credit: Timelapse-Camera operator: Carlos Guirao. Music Intro: Jennifer Athena Galatis. Music timelapse: Johan B. Monell (www.johanmonell.com)
Visitors getting in touch with astronomy for the first time will be as satisfied as astronomy lovers who want to expand their knowledge
"I'm fascinated by astronomy and science communication," says intern Calum Turner. "The chance to help out and see behind-the-scenes in a cutting-edge astronomy outreach centre is a great opportunity to get more experience, learn more about outreach, and meet the people who communicate science for a living!"
Mathias Jäger, coordinator of the content production for the permanent exhibition, tells me that their aim was to create an exciting visitor centre to educate everyone, young or old, about the wonders of the world we live in.
"Visitors getting in touch with astronomy for the first time will be as satisfied as astronomy lovers who want to expand their knowledge," he says with confidence. "We also explain the topics in simpler terms for our younger visitors, and convey our educational messages in many different ways: classically via panels, more modern via screens showing videos, interactively with instructive games created by HITS, and also experimentally with hands-on stations."
The exhibition was designed by Design und Mehr in collaboration with HITS — the Heidelberg Institute for Theoretical Physics — and ESO. The 129 panels are located around the edge of the building, along a gently sloping 255-metre-long path. The path takes you all the way to the top of the building and then back to the bottom again, and you can interact with the exhibitions as you go. They're beautifully designed and very engaging, with explanations suitable for all ages coupled with incredible images — one of my personal favourite parts of astronomy.
"The exhibition covers a wide range of topics across modern observational astronomy," explains Jäger. "From planetary science to stars to exoplanets to the most distant galaxies, including information on the different techniques we use to study these objects. The amount of information and topics we cover is amazing!"
There are also specific themes dedicated to ESO, covering the organisation's history, how it is run, and some of its biggest discoveries to date. There's an impressive section about ESO's Extremely Large Telescope, currently being built in Chile, which will be the largest optical and infrared telescope in existence.
My personal favourite exhibit is about exoplanets and the search for life elsewhere in the Universe — I've always been fascinated by the thought of life out there from watching various science-fiction TV shows and films, and the exhibits in the ESO Supernova feeds into that fascination. There are also some really cool inclusions like the Atacama Desert selfie station and the virtual reality stations that transport you to Chile, allowing you to look around ESO's amazing facilities. Even cooler, there are some fun interactives where you can make galaxies collide or play Pong with black holes!
Those who created the exhibitions also have their personal favourites.
"My personal highlights are a real meteorite and an ELT mirror segment you can touch, which is something you wouldn't normally get the chance to do," says Jäger. "My favourite hands-on is a station where you can build your own lens telescope. And if you get tired of walking you can take a seat in the relativity bike, which allows you to cycle at almost the speed of light!"
Perhaps the most exciting part of the experience for me is the planetarium itself. Located in the centre of the facility, it's the largest tilted planetarium in Germany, Austria and Switzerland. It presents a wide variety of shows and cultural events, ranging from shows suitable for small children such as A Tour of the Solar System to public talks such as Massive Black Holes and Galaxies and musical performances like Stan Dart — Mare Stellaris. There is also a huge programme of bilingual events already planned for the next three months. Almost all activities, except some in English, are fully booked by now.
During my visit, I watch From Earth to the Universe and am completely mesmerised. The film is a stunning 30-minute voyage through space and time, starting with our neighbours in the Solar System and zooming all the way out to the vast large scale structure of the Universe. The planetarium is wonderfully designed and I'd personally be happy to sit there all day, especially if I was allowed to watch all the planetarium shows!
Strikingly, the ESO Supernova is the world's first open-source planetarium — a great step forwards for science communication.
Head of ESO's education and Public Outreach Department Lars Lindberg Christensen explains: "All the planetarium shows, exhibition and educational content are available online for other museums and planetariums to download and use for free. The ESO Supernova is not just a boon for Germans but also for people in the other ESO Member States and beyond."
At the centre of the facility is also an interesting area dubbed "The Void", analogous to the void of space. The high glass ceiling of this unique room contains a beautiful display of the constellations of the Southern Hemisphere — a new experience for many visitors.
Its walls are covered with a what is arguably the largest image of the night sky anywhere, again viewed from the Southern Hemisphere. The Void is a great space for special events and functions, with a seating capacity of up to 150, and it will also house temporary exhibitions, such as the Our Place in Space exhibition from 17 May – 2 September 2018.
I explored the exhibits at my own pace, but guests can also hop on one of the many guided tours available — including a tour that takes you into ESO Headquarters next door, where you can take a sneak peek at how such a huge scientific organisation is run.
According to one tour guide Valentina Schettini, "There are no concepts or formulas to be learnt from a tour. It is more about communicating a sense of wonder and curiosity about our marvellous Universe, especially the human adventure represented by the scientific research."
The guides themselves are all very enthusiastic and love to see the reactions of the visitors, especially to hear questions and to hear from younger visitors.
"I enjoy it when young people, especially teenagers, ask about the daily life of astronomers and want to know how the research actually works," says Schettini. "You can tell they're thinking about their own future and that is super exciting!"
Wherever you're from, there's a good chance that you will find someone who will speak your language.
"The tours will be presented in German and in English and in fact the entire educational offers provided by the ESO Supernova is bilingual," explains Schettini. "In addition, for special occasions or particular needs, tours could be offered in other languages."
At the end of your visit be sure to check out the ESO gift shop filled with awesome astronomical gifts. It has everything ranging from ESO caps, t-shirts and mugs to posters, postcards, pens and stickers.
Before I left, I chatted to a few members of the public to get their first thoughts about the facility.
"My first impression was clearly that the whole thing — the building, exhibition, organisation, and so on — is very professional," says Barnabás, astronomy enthusiast. "It looks very modern, exactly like something built in the twenty-first century should look like. I've just run through the exhibition, but it is probably the best I've ever seen on this topic and I will definitely visit again."
Another visitor Noemi, a resident of the nearby town Garching, says: "The building is very impressive with its large open spaces and the beautiful architecture. The exhibition is definitely interesting for both astronomers and the public since it answers very popular questions in an easily understandable, but still scientific way. Thumbs up for the beautiful pictures on the walls and the floor, as well as for all the exhibits that you can interact with!"
A supernova can shine brighter than all of the stars in the Milky Way combined, and the ESO Supernova shines in a similar way. I have no doubt that it will generate enthusiasm and a passion for astronomy with young and old alike.
Numbers in this article
| | |
| --- | --- |
| 0 | Cost of entry in 2018 (in all currencies) |
| 255 | Length of the exhibition path in metres |
| 1500 | Approximate number of visitors over the first 3 days of opening |
| 2200 | Square metres of exhibition |
Links
Biography Stephen Molyneux
Stephen first found his love for astronomy when he was bought a small telescope as a child. From then on he was hooked and spent many nights looking at the night sky. He went on to study a Masters in Physics with Astronomy at the University of Nottingham, specialising in galaxy clusters. In his final year he completed a module titled "The Politics, Perception and Philosophy of Physics" where he was taught how to write scientific articles in various different styles, including reports, blog posts and newspaper style articles. This led Stephen to his current role as an intern in the education and Public Outreach department of ESO.