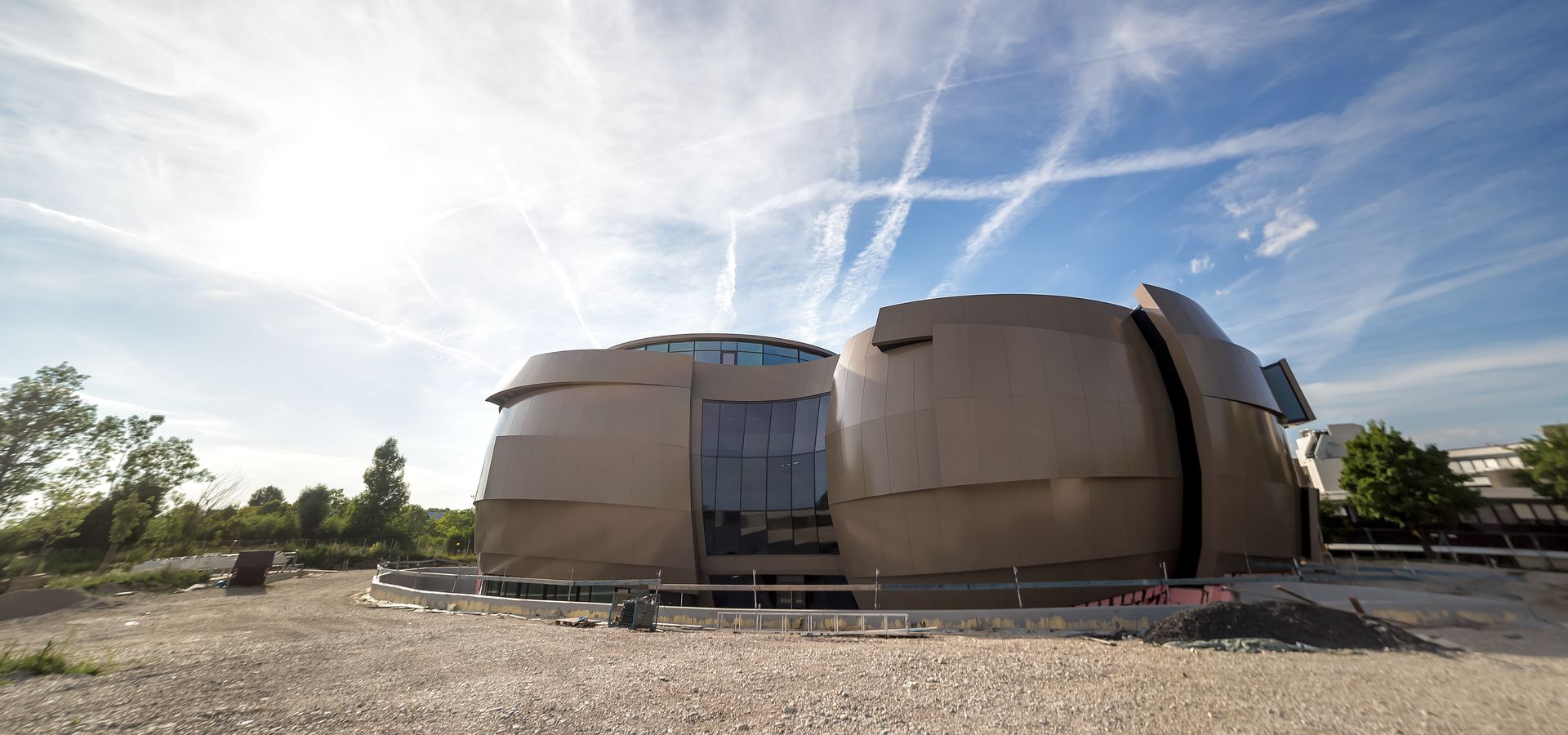 A conversation with ESO Supernova Coordinator Tania Johnston
10 November 2017
What you'll discover in this blog post:
What it takes to build a planetarium from scratch
A sneak peek into the exhibition of the ESO Supernova
The challenges of running a free, open-access planetarium
ESO telescopes give us amazing glimpses of the Universe, but they're not the only way for us Earth-bound humans to travel to the stars. The ESO Supernova Planetarium & Visitor Centre is a cutting-edge free astronomy centre at ESO Headquarters in Garching, Germany, made possible by a substantial donation from the Klaus Tschira Stiftung. It will open its doors in April 2018, but in the meantime we chatted with Tania Johnston, ESO Supernova Coordinator, to find out what it's like to build the first open-source planetarium in the world.
Q: First of all, what is a planetarium?
A: Good question! A planetarium is an immersive experience where visitors enter a huge dome showing projected images, typically of the night sky, that totally surround them. With state-of-the-art digital technology, planetariums can also show things we can't see with our eyes, like far-away galaxies, planets, supernovae and black holes. I love even the basic planetariums — they really make you question your whole existence, the existence of the world, and our insignificance.
Our planetarium dome at the ESO Supernova is 14 metres in diameter, tilted at 25 degrees. We've created a beautiful array of astronomy films in-house, including a stunning film about our Sun and many different journeys through the Universe.
Q: What is your role as ESO Supernova Coordinator? What led you here?
A: Before I came to ESO I worked at the visitor centre of The Royal Observatory in Edinburgh for nine years. In many ways, it was quite similar to here, although much smaller. Like the ESO Supernova, it was located on a campus with working researchers, engineers and astronomers, which meant we made great links between the people actually working at the observatory.
At the moment, my role involves a lot of planning and overseeing the work being done by my great colleagues in ESO's outreach department as well as our fantastic team of volunteers around the world. In particular, we're busy finishing up the exhibition, the planetarium shows, and the programme. Once the ESO Supernova is open I'll be coordinating staffing, events, and our interactions with the public. So I have quite a broad range of tasks, which I like. My heart really is in education, and I can't wait to see children enjoying the exhibition and our educational workshops. Personally, my goal is to give people a better appreciation of the night sky by showing them how astronomy is really done and engaging them in the fascination and wonder. I also hope to make ESO and our role in astronomical research more well known.
It's going to be a really exciting and dynamic space
Q: Other than the planetarium, what will people find in the Visitor Centre?
A: It's worth visiting just for the building itself! The architecture, designed by Bernhardt + Partner, is very clever: the building resembles a close double-star system — a type I supernova, actually — where one of the "stars" contains the planetarium dome and the other contains the Void. The Void is this huge, open, round room, with the most incredible wallpaper from floor to ceiling made of what is possibly the largest and deepest image of the entire night sky. It's topped off by a glass star roof, which shows artistic interpretations of 21 constellations in the southern sky. It's going to be a really exciting and dynamic space.
Downstairs we've got a picnic area and upstairs is a rooftop terrace, which could be a great place for solar and night observations! There's also a news section, which will be constantly changing to incorporate the latest astronomical discoveries and images from around the world.
Of course, then there is the main exhibition, designed by Design und Mehr in collaboration with HITS gGmbH and ESO. It goes all around the building with ramps that circle the planetarium and the Void. It's made up of 150 stunning panels that describe a huge range of astronomical topics, taking visitors on a journey through the Universe. We begin nearby, focusing on the Sun, Earth and Moon, then zoom out to the Solar System, exoplanets, the Milky Way, cosmology, and then finally we take a look at everything we don't yet fully understand, like black holes and dark matter. We also make a brief stop in Chile on the way to space, as you do, to discuss four themes specifically about ESO and the tools astronomers use. We really have been able to touch on every aspect of astronomy — it's incredible.
Q: What part of the exhibition are you most excited about?
A: I'm most excited about seeing the highest point in the exhibition: the Atacama Desert. This will be our selfie station! We'll have 360 degree views of ESO's facilities in the desert, along with virtual reality tours to give people the feeling of really being there in Chile where ESO's telescopes operate. I'm really excited to see that realised, as I've had it in my mind for so long and I think it will be a place visitors will love.
Q: What was the process of creating the exhibition like?
A: Preparing the exhibition has been fascinating on many different levels. To focus on just one example, the texts for the exhibition panels have been through so many rounds of approvals — first they were written by a science writer, then edited by me, checked for scientific accuracy by astronomers, proofread, translated into German, then the science was checked again! Even when we checked over the final German version, new astronomers picked up subtle changes in meaning that crept in during translation. We had many debates about how best to explain difficult concepts, as well as about the scientific meanings of words in English versus German. I was learning German so it was a great learning experience! So it's been a tricky but overall rewarding process.
We wanted to create activities that aren't available in schools, to give students unforgettable learning experiences
Q. How did the educational workshops come into fruition?
A: This is quite a clear process in my mind — we wanted to create activities that aren't available in schools, to give students unforgettable learning experiences. So we thought about how we could link the curriculum to what we do at ESO: with scientific work, engineering, and how telescopes work. I always keep in mind ideas around inquiry-based learning, which give students the chance to investigate and experiment so that they can discover answers for themselves.
Our primary school workshops were developed with the help of the expertise of our sister organisation, Haus der Astronomie, and I've adapted them to add in more relevance to Chile. For example, when we're teaching kids about the seasons, we illustrate the differences between the seasons in different hemispheres by comparing Chile and Germany.
Q: What are the challenges of running a free, open-access planetarium?
A: The major challenge is that we have no guaranteed income from admissions. This is why we're actively looking for partners so we have some stable revenue, as well as hiring out our spaces in the ESO Supernova for events and placing donation boxes throughout.
It's also important to note that because ESO is an intergovernmental organisation funded through public money, we have an obligation to give back. One way we're doing this is by making our resources available to the public. Hundreds of planetariums around the world are already using the shows and clips we created for the ESO Supernova.
Q: What are the biggest challenges of your job?
A: I'm originally from Scotland, so speaking German is still one of the biggest challenges. I'd say about 40% of my job is already in German — so many phone calls, meetings, and emails! This sometimes makes it a bit tricky to delegate work if not everyone in the team speaks German. There's also a formalness to emails in German, and although people are very forgiving, I'm a perfectionist so writing emails is still a challenge.
Q: What do you hope the ESO Supernova will bring to the local area of Garching?
A: For the locals, there's nothing really like it in the surrounding area, and it's free! But also it's an opportunity to give people a taste of the amazing science that happens here at the Garching Forschungszentrum campus.
I'm also trying to plan events that will be interesting not only to the people who live here, but also to tourists who happen to be in the area — especially those from ESO's Member States. It would be fantastic if we could become one of the top three attractions in Munich!
Numbers in this article
| | |
| --- | --- |
| 14 | Diameter of the planetarium dome (in metres) |
| 21 | Number of constellations displayed on the ceiling of the Void |
| 25 | Tilt of the planetarium dome (in degrees) |
| 150 | Number of exhibition panels |
Links
Biography Tania Johnston
Tania grew up in the north-east of Scotland, where her love of astronomy started at an early age, thanks to the wonderful dark skies there. She obtained a Masters in Chemistry from Southampton, England, before beginning her career in science communication. She has experience creating and delivering hands-on workshops and talks on a variety of scientific topics to a wide range of audiences, as well as developing curriculum-related educational material. Tania has been the ESO Supernova coordinator since 2015.