Digitized Sky Survey image of the Helix Nebula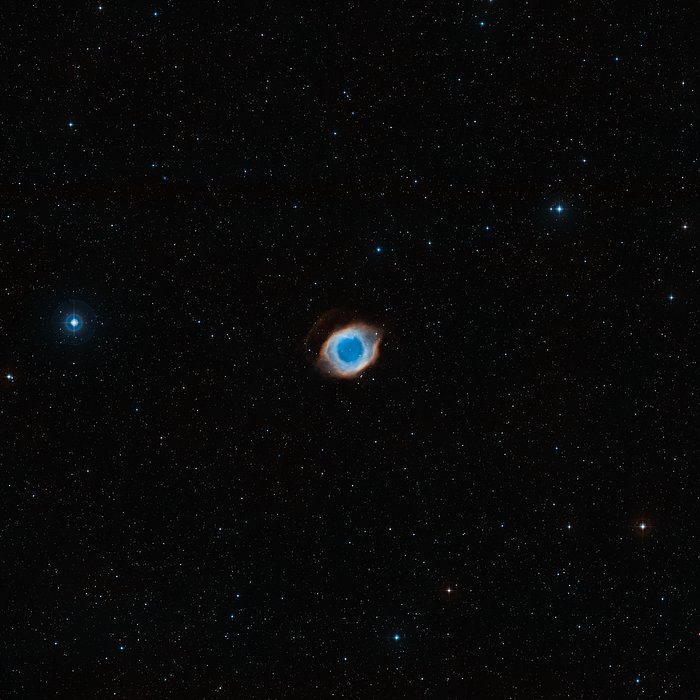 This visible-light wide-field image of the region around the Helix Nebula was created from photographs taken through red and blue filters and forming part of the Digitized Sky Survey 2. The nebula appears prominently at the centre of the image and many faint galaxies are also visible on careful inspection. 
The field of view is approximatelly 2.9 x 2.9 degrees.
Credit:
ESO/Digitized Sky Survey 2.
Acknowledgment: Davide De Martin
About the Image
| | |
| --- | --- |
| Id: | eso0907b |
| Type: | Observation |
| Release date: | 19 January 2012, 12:00 |
| Related releases: | eso1205, eso0907 |
| Size: | 10582 x 10582 px |
---
About the Object
---
Image Formats
---
Zoomable
---
Wallpapers
---
Coordinates
| | |
| --- | --- |
| Position (RA): | 22 29 38.54 |
| Position (Dec): | -20&deg 50' 14.18" |
| Field of view: | 179.74 x 179.74 arcminutes |
| Orientation: | North is 0.4° left of vertical |