Announcement
Café & Kosmos 10 April 2012
The particle accelerators of the future: larger, faster, further
4 April 2012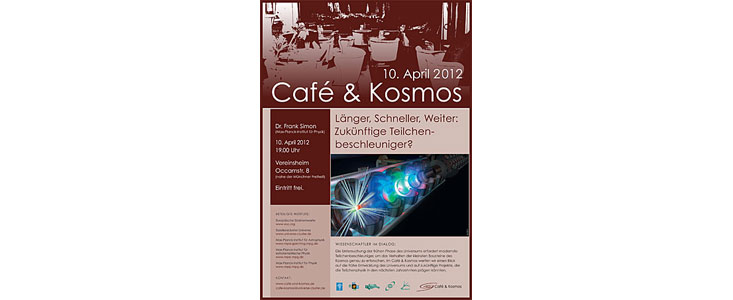 with Dr Frank Simon (Max Planck Institute for Physics)
The study of the early Universe requires the most modern particle accelerators in order to explore the behaviour of the smallest building blocks of the cosmos. During the next Café & Kosmos, we will take a look at the evolution of the earliest stages of the Universe, and also on the future projects that will influence our understanding of physics.
On 10 April 2012, Dr Frank Simon (Max Planck Institute for Physics) will discuss the moments just after the Big Bang, when the Universe was filled with elementary particles. To understand this period of the cosmos better, new and even more powerful instruments will be required. Future particle accelerators, including global projects like the International Linear Collider (ILC) and the Compact Linear Collider (CLiC), will serve as huge particle microscopes to look deep into the history of the Universe.
Please note that the Café & Kosmos events take place in German.
What: The particle accelerators of the future
When: Tuesday, 10 April 2012, 19:00 until approximately 20:30
Where: Vereinsheim, Occamstr. 8, 80802 München, near Münchener Freiheit
Admission is free.
Links
Contacts
Olivier Hainaut
ESO
Garching bei München
Tel: +49 89 3200 6752
Email: ohainaut@eso.org
Dr. Hannelore Hämmerle
MPI für extraterrestrische Physik
MPI für Astrophysik
Garching bei München
Tel: +49 (89) 30 000 3980
Email: hannelore.haemmerle@mpe.mpg.de