Announcement
Astronomy Week at the Chilean ExpoMilan Pavilion
ESO will present talks, videos and images
6 October 2015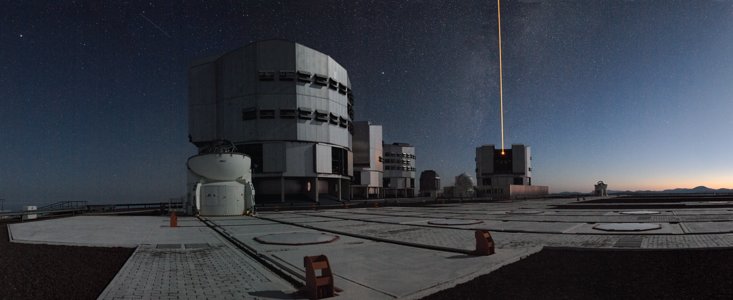 Expo Milano 2015, the biggest World Exposition, will be held in Milan, Italy from 1 May to 31 October 2015. It will have an important component devoted to astronomy and ESO will have a strong presence.
The period 5–8 October 2015 will be "Astronomy Week" at the Chilean Pavilion. With talks and activities, the organisers will highlight the qualities and the importance of the Chilean skies as a window to the Universe, and the role of facilities like ESO's Paranal Observatory to help develop state-of-the-art astronomy in Chile.
ESO will have a prominent role during the week. Massimo Tarenghi, ESO Astronomer Emeritus, is one of the organisers and will give the opening talk along with the Chilean astronomer María Teresa Ruiz. They will discuss the big astronomical observatories installed in Chile, including the Very Large Telescope (VLT) and the Atacama Large Millimeter/submillimeter Array (ALMA).
These events will kick off four intense days with three astronomy talks per day. These will include images and videos from the ESO Photo Ambassadors as well as the Italian photographer Alberto Ghizzi Panizza, who travelled around Chile, from ALMA to the La Silla Observatory, capturing images of the Chilean night sky and ESO facilities.
Throughout the entire Expo Milano, visitors to the Chilean Pavilion are also welcomed with ESO Ultra HD videos showing the beautiful night skies of Chile and breathtaking scenery, including that surrounding the ALMA, La Silla and Paranal Observatories.
The entire programme of talks of the "Astronomy Week" can be seen here:
| | | |
| --- | --- | --- |
| Title | Speakers | Time |
| Opening Talk | Massimo Tarenghi / María Teresa Ruiz | October 5 at 15:00 hrs. |
| We are Stardust | Jose Maza / Stefano Cristiani | October 5 at 17:00 hrs. |
| Vita di un astronomo in Cile | Leonardo Vanzi / Guido Garay | October 5 at 19:00 hrs. |
| The History of our Universe: from the Big-Bang to Life | Massimo Tarenghi / María Teresa Ruiz | October 6 at 12:00 hrs. |
| Il Cielo del Cile | Jose Maza / Stefano Cristiani | October 6 at 16:00 hrs. |
| Stellar maternities: the birth of a star | Leonardo Vanzi / Guido Garay | October 6 at 19:00 hrs. |
| Cile terra di Osservatori Astronimici | Massimo Tarenghi / María Teresa Ruiz | October 7 at 12:00 hrs. |
| We are Stardust | Jose Maza / Stefano Cristiani | October 7 at 16:00 hrs. |
| Vita di un astronomo in Cile | Leonardo Vanzi / Guido Garay | October 7 at 19:00 hrs. |
| The History of our Universe: from the Big-Bang to Life | Massimo Tarenghi / María Teresa Ruiz | October 8 at 12:00 hrs. |
| Il Cielo del Cile | Jose Maza / Stefano Cristiani | October 8 at 16:00 hrs. |
| Stellar maternities: the birth of a star | Leonardo Vanzi / Guido Garay | October 8 at 19:00 hrs. |