Announcement
ESO takes part in Chile's biggest ever international summit
ESO is invited exhibitor at the CELAC–EU summit in Santiago
22 January 2013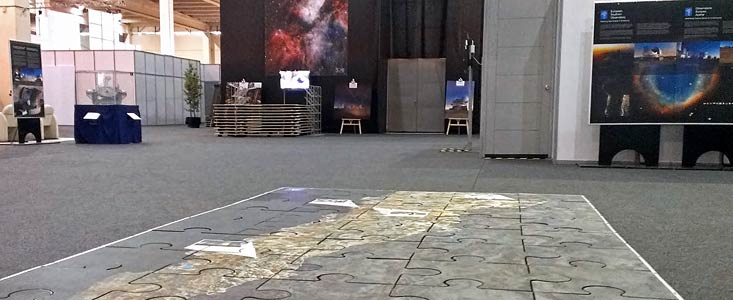 The Summit of the Community of Latin American and Caribbean States (CELAC) and the European Union, the largest such event ever organised in Chile, was opened by President Sebastian Piñera today. The summit is a forum for the discussion of international affairs, with 61 heads of state and of government and their delegations invited, and with 1500 journalists from around the globe among the 3000 delegates attending. The summit is taking place between 22 and 27 January in Santiago.
Astronomy will be a strong theme throughout the event, featured on various occasions on giant screens at the conference, through imagery of and from ESO's observatories in Northern Chile. In the "Retiro" ("retreat"), the small room where heads of state will gather in an intimate setting to discuss international matters, a scale model of ESO's European Extremely Large Telescope will decorate the centre of the room amidst constellations of the southern sky visible from Chile, giving an exciting view of the future of astronomy in Chile.
As a key organisation often associated with Chile's image both at home and abroad, and in keeping with the summit's motto of "Aiming High" [1], ESO was specially invited by the Chilean Government to take part in the summit as a major exhibitor.
In a central open space informally dubbed the "space of the stars" located next to the European Union offices, ESO has set up a large exhibit, lying on one of the main thoroughfares through which at least 2500 people, both press and delegates, are expected to pass every day.
The exhibit opens with a satellite map of Chile pinpointing the location of ESO's observatories (see ann11080), which leads into the open area where large panels with information in English and Spanish give information about ESO's work.
The Awesome Universe exhibition — celebrating 50 years of the organisation — represents the core part of ESO's presence at the CELAC–EU summit. Consisting of a gallery of large-scale images, including the best astronomical images from ESO telescopes and stunning photography of the observatories, it is spread throughout the space where delegates and journalists will stroll and engage in informal discussions. At the centre of ESO's presence at the summit is another scale model of the future European Extremely Large Telescope. Finally, a large banner with an astronomical image of the Carina Nebula created from telescope observations made by President Piñera himself during his visit to Paranal in June 2012 (see eso1250) is also on display.
Notes
[1] The stars are also a theme in the logo of the summit, based on the renowned work by Chilean sculptor Mario Irarrázabal of a hand reaching up. The logo features stars representing the skies of northern Chile, where the biggest astronomical projects are being developed with European collaboration.
Links
Contacts
Valentina Rodriguez
ESO, Santiago
+56 2 2463 3123
Phone: +56-2-4633261
e-mail: vrodrigu@eso.org