Press Release
South America Delegation of the European Parliament Visits ESO's Paranal Observatory
30 October 2003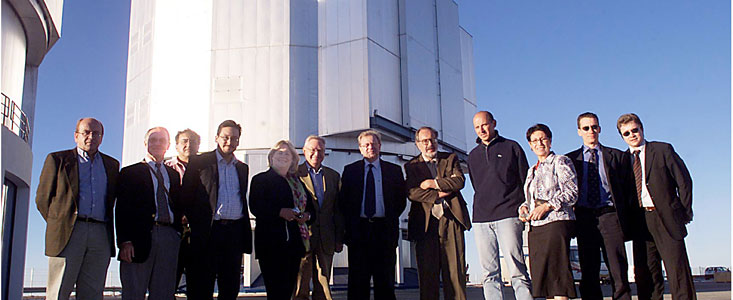 Chaired by Dr. Rolf Linkohr , Members of the European Parliament Delegation for Relations with the Countries of South America and MERCOSUR visited ESO's Paranal Observatory on October 29-30, 2003.
As the world's most advanced optical/infrared astronomical facility, the ESO Very Large Telescope (VLT) at Paranal is the flagship of European astronomy and a powerful expression of Europe's ambitions in this important area of fundamental research. It is also an outstanding example of the capabilities of Europe's high-technology industries. At the same time, the Paranal Observatory provides a model for international, scientific co-operation between Europe and Latin America, based on agreements between ESO and the Republic of Chile.
The deputies were accompanied by the ESO Representative in Chile, Mr. Daniel Hofstadt . Upon arrival Wednesday afternoon, the Delegation was welcomed by Dr. Roberto Gilmozzi, Director of ESO Paranal.
The distinguished visitors were impressed by the instrumentation park available to astronomical research at Paranal. During a nightly visit to the Control Centre of the observatory, they met with visiting astronomers and ESO staff and experienced some of the exciting research programmes now being carried out with the VLT at the front line of human knowledge.
For Dr. Linkohr, Astrophysics means high-tech today and it has many ramifications in other areas of Science and Technology. "Europe cannot be better represented in Latin America - and in Chile in particular - than by such an outstanding scientific and technical achievement as the VLT," he said.
ESO has received support from EU programmes. "Current interactions between ESO and the EU have shown that first-rate windows of opportunities exist in high-tech developments, indispensable for our continued exploration of the unknown", indicated Dr. Gilmozzi .
The deputies are leaving Paranal today (Thursday October 30th), continuing to La Serena before travelling back to Santiago de Chile.
The Delegation is visiting Chile as part of the Cooperation Agreement between the European Union and the Republic of Chile that foresees regular, joint interparliamentary discussions.
About the Release
Release No.:
eso0331
Legacy ID:
PR 27/03
Name:
Meeting
Type:
Unspecified : Technology : Observatory
Unspecified : People : Other/General
Facility:
Very Large Telescope
---