Well on its way: the ALMA Residencia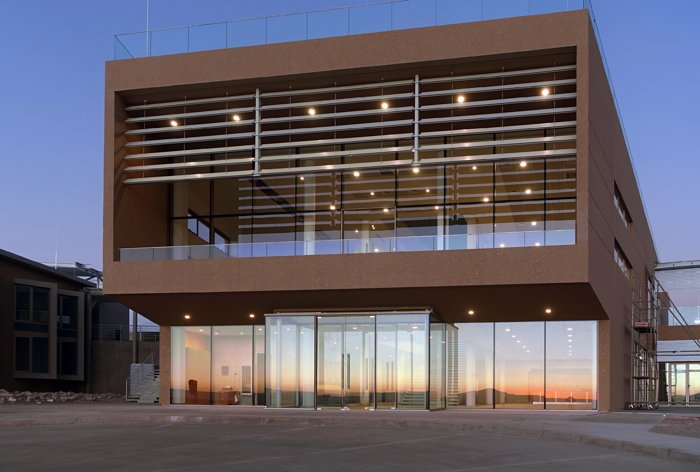 The Atacama Large Millimeter/submillimeter Array (ALMA) sits high up on the Chajnantor Plateau in Chile. Construction of ALMA began in 2008, and the array saw first light in 2011. Up to now the astronomers, engineers, and technicians working at the site have had to live in temporary containers located at the facility's basecamp. They will be pleased to hear that this situation will soon be coming to an end, as construction of the new ALMA Residencia reaches its final stages.
Once all of ALMA's antennas were successfully installed on the plateau, work began on the Residencia in early 2015. Located at the Operations Support Facility (OSF) at an altitude of 3000 metres, it is around 30 kilometres away from and over 2000 metres lower than ALMA, which resides in the Andes mountains at an altitude of 5000 metres. The OSF serves as the main basecamp for ALMA, coordinating all of the array's scientific activities, maintaining the site's daily operations, and acting as a hub for all contractors.
This image shows the recently completed main building of the Residencia, with a façade that has been carefully designed to complement and blend perfectly with the colours and topology of the surrounding desert landscape. The construction was carried out by local Chilean contractors with experience of the harsh and remote location: Constructora L y D S.A. and Axis Desarrollos Constructivos S.A., together comprising the Axis LyD consortium. This is an ESO deliverable for ALMA with a financial contribution from East Asia, and the construction work was funded by ESO (80%) and East Asia (20%).
Further work now continues inside to fit out the Residencia, which houses facilities that include a cafeteria, library, lounge, spa with gym, swimming pool, and 120 dormitory rooms for ALMA workers.
Credit:
ALMA (ESO/NOAJ/NRAO)/ESO (W. Wild)
About the Image
| | |
| --- | --- |
| Id: | potw1646a |
| Type: | Photographic |
| Release date: | 14 November 2016, 06:00 |
| Size: | 3568 x 2406 px |
---
About the Object
---
Image Formats

Fullsize Original

Large JPEG
1.9 MB

Screensize JPEG
183.4 KB
---
Zoomable
---
Wallpapers
---