Moonlight and zodiacal light over La Silla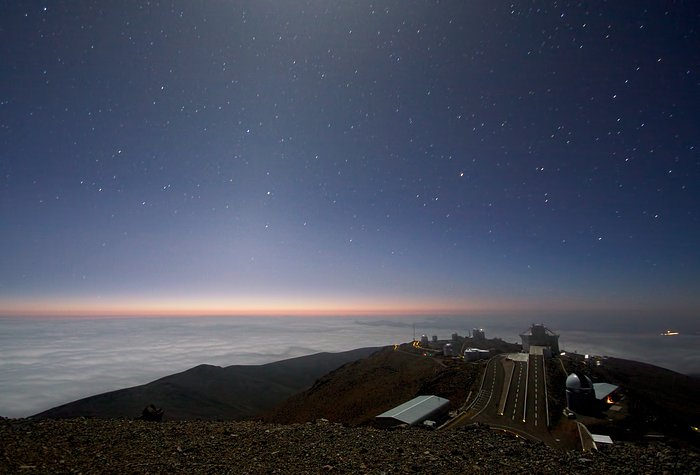 What may look like a futuristic city out of a science fiction story, floating high above the clouds, is ESO's longest-serving observatory, La Silla. This photograph was taken by astronomer Alan Fitzsimmons while standing near the ESO 3.6-metre telescope just after sunset. The Moon is located just outside the frame of this picture, bathing the observatory in an eerie light that is reflected off the clouds below.
The very faint band of glowing golden light just above the clouds still illuminated by the sunset is the zodiacal light. It is caused by sunlight diffused by dust particles between the Sun and the planets. This can only be seen just after sunset or just before sunrise, at particular times of year, from very good sites.
Several telescopes can be seen in this photograph. For example, the large angular structure at the end of the road is the New Technology Telescope (NTT). True to its name, when completed in 1989 the telescope included a number of revolutionary features including being the first to use full active optics as well as a revolutionary octagonal enclosure. Many of the NTT's features went on to be incorporated into ESO's Very Large Telescope.
The dome in the foreground, just to the right is the Swiss 1.2-metre Leonhard Euler Telescope named in honour of the famous Swiss mathematician Leonhard Euler (1707–83).
Alan submitted this photograph to the Your ESO Pictures Flickr group. The Flickr group is regularly reviewed and the best photos are selected to be featured in our popular Picture of the Week series, or in our gallery.
Credit:
About the Image
| | |
| --- | --- |
| Id: | potw1325a |
| Type: | Photographic |
| Release date: | 24 June 2013, 10:00 |
| Size: | 3529 x 2395 px |
---
About the Object
---
Image Formats
---
Zoomable
---
Wallpapers
---