Announcement
The Messenger No. 164 Now Available
8 July 2016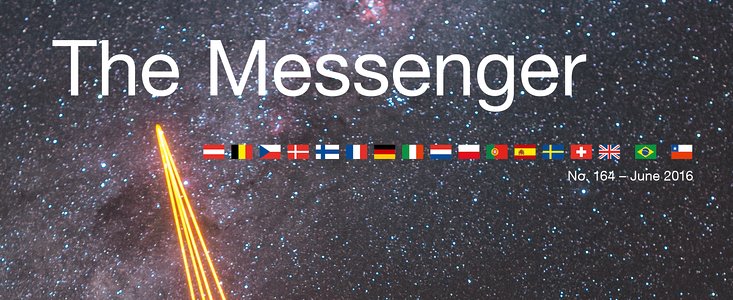 The latest edition of ESO's quarterly journal, The Messenger, is now available online. Find out the latest news from ESO on topics ranging from new instruments to the latest science discoveries.
Highlights of this edition include:
Adaptive Optics Facility Status Report: When First Light Is Produced Rather Than Captured
Solar Activity-driven Variability of Instrument Data Quality
A Stellar Census in NGC 6397 with MUSE
First Results from the XXL Survey and Associated Multi-wavelength Programmes
ALMACAL: Exploiting ALMA Calibrator Scans to Carry Out a Deep and Wide (Sub)millimetre Survey,Free of Cosmic Variance
Light Phenomena over the ESO Observatories III: Zodiacal Light
Download The Messenger in PDF format or visit The Messenger website to subscribe and receive a free printed copy.
The printed version will be distributed from 15 July 2016.
This product is also available in the ESOshop.
Links
Contacts
Peter Grimley
ESO Assistant Public Information Officer
Garching bei München,
Germany
Email: pgrimley@partner.eso.org