Announcement
Invitation to Polish Industry Day in Warsaw
29 June 2015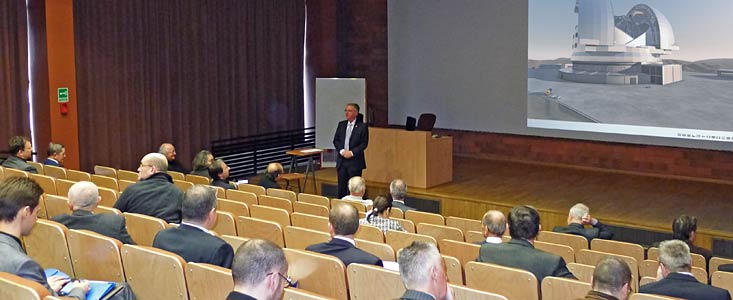 On 3 July 2015, the Polish Government will host the Second Industry for ESO workshop for Polish businesses at the Nicolaus Copernicus Astronomical Centre in Warsaw. At the meeting, representatives of interested Polish companies and institutions will be offered information about ESO, given an introduction to the European Extremely Large Telescope (E-ELT) and presented with potential opportunities to participate in its industrial activities.
The day will open with a welcome speech from Under Secretary of State for the Ministry of Science and Higher Education, Prof. Włodzisław Duch, followed by an introduction to ESO from Patrick Geeraert (ESO Director of Administration). There will be several further talks on engineering and projects available at ESO, including the E-ELT. In the afternoon, Polish companies will be able to give short presentations and there is the possibility of one-to-one meetings between ESO representatives and interested Polish companies to close out the day.
Registrations is possible online at the Second Industry for ESO workshop website.
Links
Contacts
Arnout Tromp
ESO, Head of Contracts & Procurement
Garching bei München, Germany
Tel: +49 89 32006438
Email: atromp@eso.org