Announcement
Plaque Commemorating Leiden Statement Unveiled
Document signed in 1954 paved the way for the creation of ESO
4 March 2015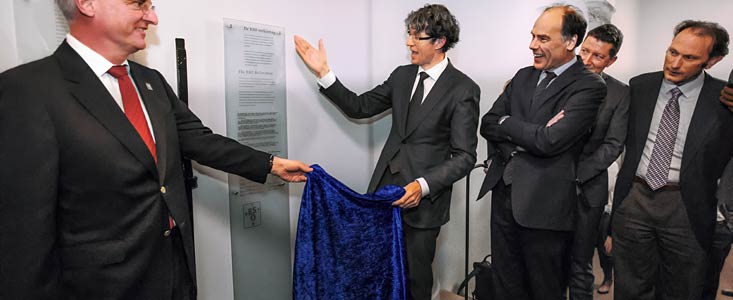 In January 1954, twelve astronomers from six different European nations congregated in the Senate Room of Leiden University in the Netherlands. The party had met with the intention of discussing a joint venture with the aim of establishing a European observatory under the favourable skies of the southern hemisphere. In the course of the meeting, chaired by Bertil Lindblad of Saltsjöbaden, the twelve astronomers formulated and duly signed their names to a document intended to garner governmental support for their ambitious plan.
The subsequently named Leiden Statement laid the groundwork for the ESO Convention of 1962 and so marked the birth of a venture that has since far exceeded even the ambitious vision of those twelve founding astronomers. Today, ESO is the foremost intergovernmental astronomy organisation in Europe, operating some of the most advanced scientific equipment ever built and supported by sixteen countries, with several more having expressed an interest in membership.
To mark this milestone in the history of ESO, a commemorative plaque was unveiled outside the Leiden University Senate Room during the ESO Committee of Council meeting there on 3–4 March 2015. The State Secretary for Education, Culture and Science of the Netherlands, Sander Dekker, was present at the ceremony.
Links
Contacts
Richard Hook
ESO education and Public Outreach Department
Garching bei München, Germany
Tel: +49 89 3200 6655
Cell: +49 151 1537 3591
Email: rhook@eso.org