Announcement
Start Receiving ESO News in Your Language
ESO News subscribers can choose their preferred language from a list of 24 available languages
7 May 2013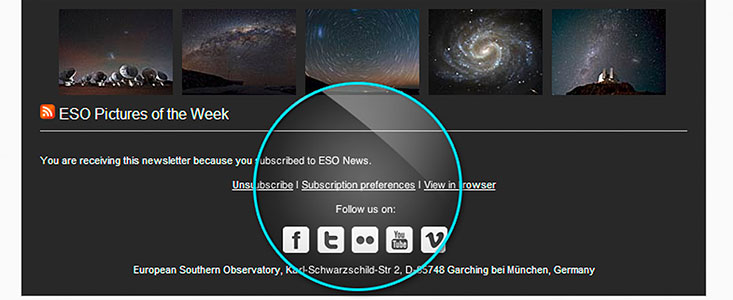 Present and future subscribers to ESO News can now receive our weekly newsletter in their native language. Current subscribers are invited to visit their Subscription Preferences, which can be found as highlighted in the images above, and choose a preferred language. New subscribers can choose their favourite language when they sign up.
We appreciate that some languages are officially spoken in more than one country. Therefore, subscribers will find an indication of both language and country in these cases. For example, in the preferred language drop-down menu subscribers will find the options: German, German/Austria, German/Belgium and German/Switzerland. We recommend taking the country into account as well, because translated newsletters may also contain additional local announcements and events that are relevant for only one country.
To see previous editions of translated newsletters for your country, check out the links below. Names of countries are available in official language(s):
Österreich, België—Belgique—Belgien, Brasil, Česko, Danmark, Suomi, France, Deutschland, Ísland, Italia, Nederland, Norge , Polska, Portugal,Россия, España, Sverige, Schweiz—Suisse—Svizzera, Türkiye, Україна.
Translations are made available thanks to the essential work of two of our networks: ESO Science Outreach Network representatives and the volunteer translators — an open network where we always welcome new members. Being a volunteer-driven initiative, our newsletters might sometimes have items in English if a translation is not available at the time of release. We kindly ask our subscribers for their understanding and hope that you will enjoy receiving our latest science news and the breathtaking views the Universe offers us.
Links
Contacts
Oana Sandu
Community Coordinator
The education and Public Outreach Department
Tel: +49 89 320 069 65
Email: osandu@partner.eso.org