Announcement
ALMA Compact Array Completed and Named After Japanese Astronomer
7 May 2013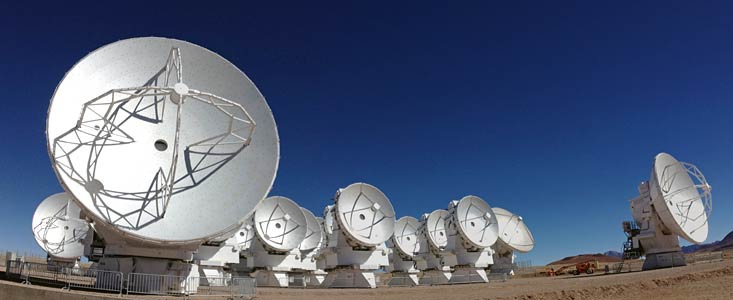 The Atacama Large Millimeter/submillimeter Array (ALMA) has reached another milestone with the delivery of the last antenna forming the Atacama Compact Array (ACA) to the ALMA high site. The ACA is a subset of 16 closely separated antennas that will greatly improve ALMA's ability to study celestial objects with a large angular size, such as molecular clouds and nearby galaxies.
The 16 antennas forming the Atacama Compact Array, four 12-metre antennas and twelve 7-metre antennas, were produced and delivered by Japan. Japan's participation in ALMA also includes some of the ultra-cooled radio receivers installed in the 66 ALMA antennas and the ACA correlator, a powerful special-purpose computer that combines the signals from the ACA antennas.
ALMA was inaugurated on 13 March 2013 during an official ceremony. However, it had already started science operations in September 2011, when a reduced set of antennas was made available for observations. Astronomers worldwide rushed to submit their proposals and, even with the limited capabilities of the partial array, the scientific results obtained from these observations have already provided significant advances in our knowledge of the Universe, in fields such as planetary and star formation and in astrochemistry.
Named Morita Array after Japanese Astronomer
In March 2013, it was decided to officially name the Atacama Compact Array the Morita Array after Professor Koh-ichiro Morita, a member of the Japanese ALMA team and designer of the ACA, who suddenly passed away on 7 May 2012 in Santiago. This is the first time that a telescope has been named after a Japanese astronomer.
More information
The Atacama Large Millimeter/submillimeter Array (ALMA), an international astronomy facility, is a partnership of Europe, North America and East Asia in cooperation with the Republic of Chile. ALMA is funded in Europe by the European Southern Observatory (ESO), in North America by the U.S. National Science Foundation (NSF) in cooperation with the National Research Council of Canada (NRC) and the National Science Council of Taiwan (NSC) and in East Asia by the National Institutes of Natural Sciences (NINS) of Japan in cooperation with the Academia Sinica (AS) in Taiwan. ALMA construction and operations are led on behalf of Europe by ESO, on behalf of North America by the National Radio Astronomy Observatory (NRAO), which is managed by Associated Universities, Inc. (AUI) and on behalf of East Asia by the National Astronomical Observatory of Japan (NAOJ). The Joint ALMA Observatory (JAO) provides the unified leadership and management of the construction, commissioning and operation of ALMA.
Links
Contacts
Richard Hook
ESO Public Information Officer
Garching bei München, Germany
Tel: +49 89 3200 6655
Cell: +49 151 1537 3591
Email: rhook@eso.org