Announcement
Update to Visiting Astronomers with planned trips to ESO observatories
28 February 2010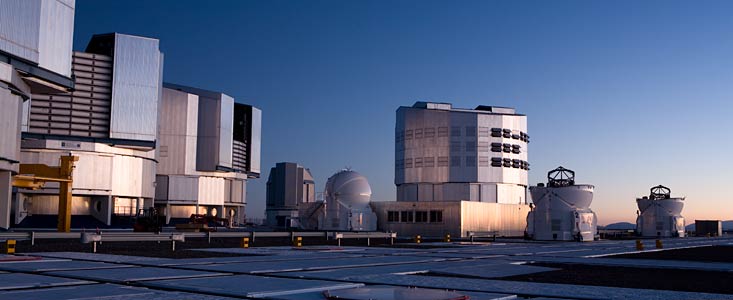 Update as of 8 March 17:30 CET:
The operations of the Santiago de Chile airport are steadily improving to a point that we are now expecting only minor perturbations of both domestic and international flights to/from Santiago in the days to come. As a result, we would like to inform all visiting astronomers to ESO-Chile with an arrival in Chile scheduled for March 10, 2010 and beyond, that no more restrictions will be applied to their itinerary and that they should plan their trip as originally scheduled.

Please keep checking this webpage before your departure as we will update its content in case of deviations from the current situation. Any questions, please email "vatravel@eso.org".

As of 28 February 21:00 CET:
We urge Visiting Astronomers with observations planned at ESO observatories to put their trips to Chile on hold until further notice. International flights to and from Santiago International Airport are currently either cancelled or diverted. Information about observing programmes will be provided at a later date.

Visiting Astronomers are requested to not travel until further notice and are encouraged to submit their Observing Blocks to Paranal for possible remote observing (note that La Silla does not support remote observing). Note that Observing Blocks will not be transmitted to Paranal until the network connection returns. Visiting Astronomers presently in Chile should preferably wait at observatories due to limited space at the ESO Guesthouse in Santiago.

Visiting Astronomers may contact Christophe Dumas for further information and coordination.
Contacts
Christophe Dumas
Tel: +56 2 955 34 40
cell +56 9 7899 78 41
Email: cjdumas1@googlemail.com and cdumas@eso.org

Ueli Weilenmann
Deputy Director La Silla Paranal Observatory
European Southern Observatory, Chile
Tel: +56 55 435 268
Fax: +56 55 435 995
Email: uweilenm@eso.org

Lars Lindberg Christensen
Head of ESO ePOD
Garching, Germany
Tel: +49 89 3200 6761
Cell: +49 173 387 2621
Email: lars@eso.org