The Guanacos of Atacama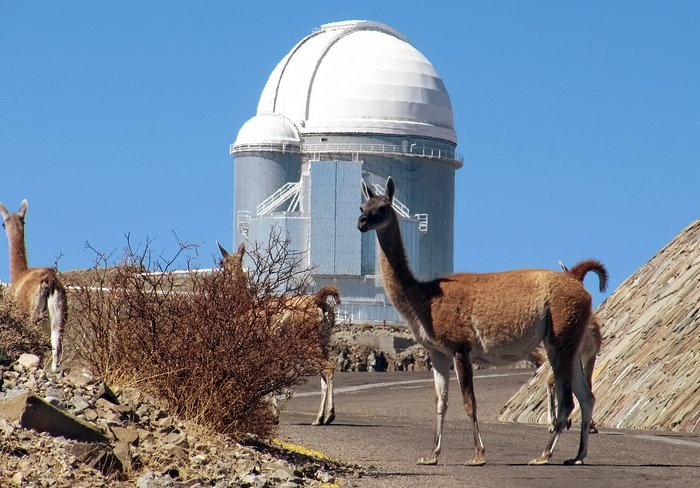 These friendly looking creatures, photographed in front of the ESO 3.6-metre telescope at the La Silla Observatory, are Guanacos. Guanacos, alongside the Vicuña, are one of two types of wild camelid native to this region of northern Chile.
Reaching between one and two metres in length (from their heads to their tails) and weighing up to 120 kilograms, guanacos are one of the largest land mammals in Chile.
These intrepid adventurers can be found in Bolivia, Paraguay, Argentina, and throughout the Andes: from Tierra del Fuego in the extreme south of Chile all the way up to Peru. Thriving on the feasts of the desert flora, guanacos enjoy mushrooms, grasses, leaves, trees and even some types of cactus flowers as part of their diets.
Guanacos and vicuñas are no stranger to ESO's facilities in the Atacama Desert. In February 2014 a vicuña fawn was rescued by ESO staff when it wandered into a facility for the Atacama Large Millimeter/submillimeter Array (ALMA) on the Chajnantor Plateau. The creature had become separated from its herd after being chased by a fox. It is now recovering at the Wildlife Rescue and Rehabilitation Centre at the Universidad de Antofagasta, and will eventually be returned to the wild.
Credit:
About the Image
| | |
| --- | --- |
| Id: | potw1601a |
| Type: | Photographic |
| Release date: | 4 January 2016, 06:00 |
| Size: | 2592 x 1808 px |
---
About the Object
---
Image Formats

Fullsize Original

Large JPEG
1.2 MB

Screensize JPEG
278.8 KB
---
Zoomable
---
Wallpapers
---