The Science
The ELT will tackle the biggest scientific challenges of our time, and will aim for a number of notable firsts, including tracking down Earth-like planets around other stars in the "habitable zones" where life could exist — one of the Holy Grails of modern observational astronomy. It will also perform "stellar archaeology" in nearby galaxies, and will make fundamental contributions to cosmology by measuring the properties of the first stars and galaxies and probing the nature of dark matter and dark energy. On top of this astronomers are also planning for the unexpected — new and unforeseeable questions will surely arise, given the capabilities of the ELT.
Some other science areas include the study of high-redshift galaxies, star formation, and the so-called "Dark Ages", the earliest epoch of the Universe, only 380 000 years after the Big Bang.


Are We Alone?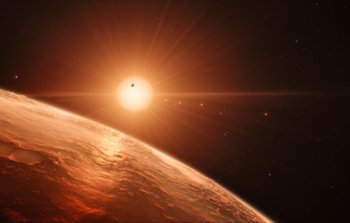 The ELT has embraced the quest for exoplanets — planets orbiting other stars. This will include not only the discovery of planets down to Earth-like masses through indirect measurements of their parent stars, but also the direct imaging of larger planets and possibly even the characterisation of their atmospheres.
Furthermore, the ELT's suite of instruments will allow astronomers to probe the earliest stages of the formation of planetary systems and to detect water and organic molecules in protoplanetary discs around stars in the making. The ELT will therefore answer fundamental questions regarding planet formation and evolution, and will bring us one step closer to answering the question: are we alone? As well as the obvious scientific interest, this would also represent a major breakthrough for humanity.


The First Objects in the Universe
By probing the most distant regions of the Universe, the ELT will help to enhance our understanding of the formation of the earliest objects and the relationships between then: primordial stars, primordial galaxies and black holes. Studies of extreme objects like black holes will also benefit from the power of the ELT to give us new insights into the rapidly evolving processes at play around compact objects.
The ELT is designed to make detailed studies of the first galaxies and to follow their evolution through cosmic time. Observations of these early galaxies with the ELT will give us clues that will help understand how they form and evolve. In addition, the ELT will be a unique tool for making an inventory of the changing content of the various elements in the Universe, and to understand how star formation began and evolved in galaxies.
One of the most exciting goals of the ELT is the possibility of making a direct measurement of the acceleration of the Universe's expansion. Such a measurement would have a major impact on humanity's understanding of our Universe. The ELT will also search for possible variations in the fundamental physical constants with time. An unambiguous detection of such variations would have far-reaching consequences for our comprehension of the fundamental laws of physics.