ESOshop: Messenger Issue 178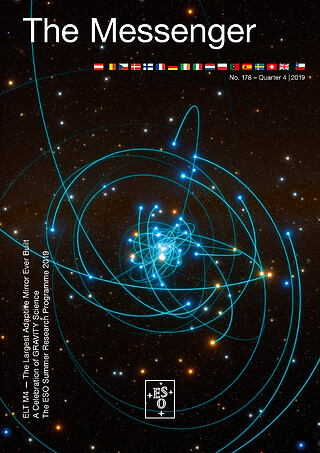 Highlights include:
E. Vernet et al.: ELT M4 — The Largest Adaptive Mirror Ever Built
GRAVITY Collaboration et al.: Spatially Resolving the Quasar Broad Emission Line Region
GRAVITY Collaboration: GRAVITY and the Galactic Centre
M. Wittkowski et al.: Precision Monitoring of Cool Evolved Stars: Constraining Effects of Convection and Pulsation
GRAVITY Collaboration: Multiple Star Systems in the Orion Nebula
C.L. Davies et al.: Spatially Resolving the Innermost Regions of the Accretion Discs of Young, Low-Mass Stars with GRAVITY
S. Dong et al.: When the Stars Align — the First Resolved Microlensed Images
GRAVITY Collaboration: Hunting Exoplanets with Single-Mode Optical Interferometry
C.F. Manara et al.: The ESO Summer Research Programme 2019
Credit:
Note:
The digital resources (images, videos, PDFs, etc.) for this product can be downloaded in the
archive
Price:
€ 2,00
View in Archive
---
---
Product details
| | |
| --- | --- |
| ID | messenger_0178 |
| Dimensions | 21 cm (W) x 29.5 cm (H) x 0.3 cm (D) |
| Pages | 72 |
| Cover | Softcover |
| Language | English |
More details about this product:
See the ESO Shop Catalogue.